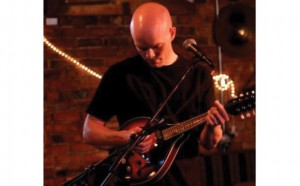 Wheelrock Entertainment is excited to welcome singer/songwriter and producer, Mike Garrigan for an acoustic concert on April 27 at 8:00 pm at Trent River Coffee Company.
Mike is currently the owner of Two Egrets Media & Recording Studio in Greensboro where he is the head audio engineer and producer alongside his wife, Holly. Mike was best known for his hit song "Automatic", which climbed the Billboard Modern Rock chart to #28 in 2000 with his band "Collapsis". In 2001, Mike joined the band "Anthenaeum" as a support guitarist and vocalist until 2004 when the band disbanded. Since 2002, he has recorded and released six albums including his latest album Pillar of the Sun (2012).
Opening for Mike, will be local singer/songwriter musician, Steve Smith.
Tickets are $8 per person and are available to reserve by calling 252-639-1644 or 252-349-2972. Seating is limited! Tickets will also be available for purchase at Trent River Coffee Company starting April 1, 2013.
For more information, visit Mike's Official website at www.mikegarrigan.com and www.twoegrets.com.
Submitted by: Roxann Belrose