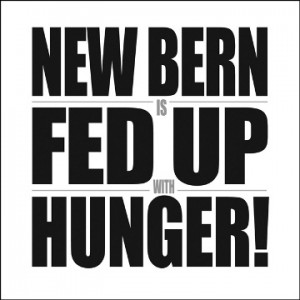 This Saturday morning – February 23, the tables will be set at the Christ Church Ministry Center on Middle Street in New Bern. Starting at ten in the morning, a group of two hundred volunteers will spend about three hours preparing fifty thousand meals for their neighbors in need. That's the order placed by New Bern's Noon Rotary Club through their Fed Up With Hunger! campaign fifty thousand meals to go, please!
Recent statistics show Craven County with the largest population facing food insecurity in this part of the state, over eighteen thousand individuals. In the last two years, family requests for food from Religious Community Services (RCS) have more than doubled.  The 200,000 meals supplied last year through their Food Pantry stretched RCS resources thin, with no end in sight.
To help meet this community need, the Noon Rotary Club has partnered with Outreach, Inc., an Iowa-based nonprofit that has supplied over 200 million meals to children and families around the world.  This Friday, Outreach will deliver enough bulk rice, beans, vegetables, vitamins and minerals to package 50,000 meals, at a cost of only 25 cents a meal.  And on Saturday morning, a large group of volunteers will assemble these supplies into packaged meals for delivery to the RCS warehouse that afternoon.
Local response to Fed Up With Hunger! has been strong, but more support is still needed.  In January, the Noon Rotary Club set up the New Bern Fed Up with Hunger website to raise funding, volunteers and public awareness to fight local hunger.  Nearly one hundred fifty volunteers have already signed up online to lend a hand this Saturday. To cover the $12,500 cost of the bulk food and packaging supplies, the Noon Rotary Club launched Fed Up With Hunger! in January with a $5,000 donation.  Since then, another $5,000 has come in through individual checks and online donations that are all tax-deductible.  All money donated will be used to purchase food for distribution through the RCS Food Pantry.
The local Ruby Tuesday has been providing additional financial support through its GiveBack program. This Wednesday is the seventh and final day when Ruby Tuesday will donate 20% of a customer's purchase to Fed Up With Hunger!  To qualify, customers must present a special GiveBack flyer to their server.  These flyers are available online at NewBernFedUpwithHunger.org, and at Ruby Tuesday on Wednesday.
"We're so grateful to Ruby Tuesday for their support", said Debbie Taggart, president of the Noon Rotary Club. "Bringing individuals and organizations together to make a difference is exciting and incredibly rewarding.  We knew if more people were aware of the local hunger problem, and if we made it easy for them to help, thousands of our neighbors in need would be fed."
More information and ways to contribute to this local effort are now available on the NewBernFedUpwithHunger.org website and the New Bern Fed Up With Hunger Facebook page. A special email address, is also available to handle questions and comments.
Submitted by: Amy Hammond, New Bern – Craven County Convention Center for Debbie Taggart, President, Noon Rotary Club