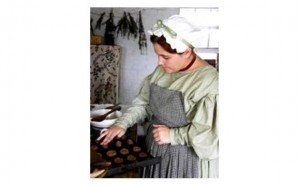 Free Events, Tours at Historic Site and Discounted Galleries Tickets Available
All families will have an opportunity to enjoy the Governor's Palace, learn about cooking in the 1770s, mingle with Governor Tryon's Craven Militia, make their own clay bowl and more during the annual Free Day at Tryon Palace. Held from 9 a.m. until 5 p.m. on Saturday, Feb. 2, Free Day offers a full menu of family activities, tours and events based around the theme "Fresh from the Past: Food and Culture in Eastern North Carolina."
Funded by a generous grant from the Harold H. Bate Foundation, Free Day ensures that all families living in Eastern North Carolina have an opportunity to visit their state's first capitol at no charge. In addition to free tours and events at the historic site, a special discounted Galleries Pass ($10 for adults, $3 for students) will also be available for admittance into the Pepsi Family Center, Regional History Museum and Duffy Gallery.
Tryon Palace welcomed more than 2,500 visitors to Free Day in 2012 and has a goal of 3,000 this year by offering a new program of guided tours, art of tea presentations, craft demonstrations, take-home crafts, period cooking, a colonial militia encampment, a statewide scavenger hunt and more.
"We are very fortunate to have the support of the Harold H. Bate Foundation to provide free, fun and engaging history education to everyone who visits Tryon Palace on Free Day," said Brandon Anderson, Director of Education for Tryon Palace. "Our hope is that anyone planning on coming to Free Day will tell their friends and bring the entire family along. Everywhere you turn there will be a different experience to enjoy and to make cherished memories."
Fresh from the Past: Food and Culture in Eastern North Carolina is a theme that's woven throughout the events scheduled at Tryon Palace this year—and Free Day is no different. Whether it's visiting the Governor's Kitchen Office for a glimpse of the latest in kitchen gadgets for 1770, enjoying a tasty sample of a popular colonial hot chocolate drink or a look at what Tryon's Craven Militia is cooking over the fire, all visitors are invited to become immersed in history and explore the food culture of Eastern North Carolina's past at no charge.
Click here for a printable map with a full list of the day's activities is available at. For more information please call 252-639-3500 or toll free at 800-767-1560.
Submitted by: Amy Hammond, New Bern – Craven County Convention Center for Craig Ramey, Marketing and Communications, Manager, Tryon Palace