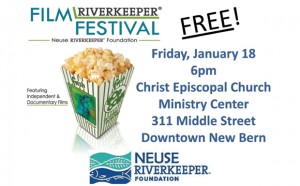 Neuse Riverkeeper Film Festival on January 18 at Christ Episcopal Church  Ministry Center, 311 Middle Street, Downtown New Bern. Festival begins at 6pm.
The guest speaker, Mayor Tyson of Trent Woods, will start no later than 7:00 with the films following so please be there prior to 7. The films will last for 1hr and 22min.
This is free and open to the public.
For more information, please visit The Neuse Riverkeeper Foundation's website.
Submitted by: Matthew Starr, Neuse Riverkeeper Foundation