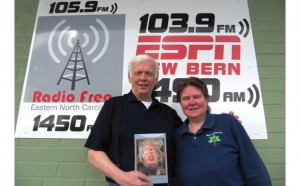 Laura Johnson and I enjoyed meeting George Grogan, the Author of Jack Bruchard… an Introduction.
Listen to Laura's interview that will be aired on WNOS 105.9FM and 1450AM with George Grogan here:
About the book:
"Jack Bruchard is the wealthiest man in the world. For the past two years something has happened to Jack that goes beyond words, or money. Even though he is not sure what has happened, the new Jack is more fulfilled with this new thinking than anything he has ever done. He lives alone but has turned his home into a center of intrigue for anyone, with advanced books, a replica of our galaxy, and his beloved and extraordinary parrot Sara.
Frank Hanson has been Jack's trusted friend and business partner for nearly forty-fi ve years. Jack invited Frank to have a discussion about an amazing man he has found that has found answers about life. As their conversation progresses, it becomes clear that Jack desires more than prosperity now – he wants to help achieve a higher consciousness for mankind. Jack believes he can buy peace of mind and tells Frank he has found a great thinker that has developed a psychological formula to help him carry out his plan. Frank thinks it is the worst idea he has ever heard. Neither man realizes that as they are immersed in their discussion, a man leaves a note at the large desk in Jack's library. It is only the beginning of something much bigger than Jack ever imagined.
In this breakthrough and one-of-a kind story, a man embarks on an unforgettable journey to find his purpose, please his Maker, and realize the life he and all of us have always dreamed for all of us. You will become the real you because of this book." – information provided by: George Grogan.
George encourages everyone to read this book. For more information, visit: www.Yourtv.tv.
Tell us what you think by commenting below or sending us an email. Visit New Bern Now's Facebook page and please share with your friends!
Wendy Card