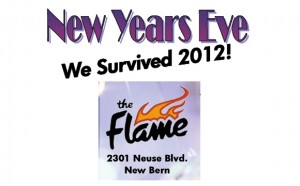 Join the Flame Banquet Center to ring in the New Year on Monday, December 31st from 9:00pm – 1:00am.
Enjoy Chef Smoke's favorite appetizers, DJ and Dancing, and a Midnight Champagne Toast.
Tickets cost $30 per person and can be purchase at The Flame Banquet Center or call 252-633-1193.
Cocktail Attire is recommended.
The Flame gives back! Three lucky Craven County School Teachers will receive a cash prize to use for their classroom. $5 of every ticket goes towards the prize so invite your friends and vote for your favorite teacher.
For more information, visit The Flame at 2301 Neuse Blvd., call 252-633-1193, or check out The Flame's website and Facebook page.
Submitted by: Jennifer Robinson, Director of Catering Sales, The Flame Catering and Banquet Center