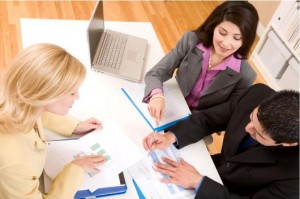 The Craven Community College Small Business Center Roundtable had their monthly meeting Wednesday morning and the unplanned topic was defining "Small Business".  The discussion was prompted by asking retail members how they fared through the shopping holidays of Black Friday and Small Business Saturday. The response was Friday was okay, but Saturday was lackluster.
A few years ago, American Express started promoting Small Business Saturday to encourage folks to shop locally, and they do a solid marketing campaign for it, but the concept of a Small Business seems to elude some shoppers.
The group determined that the simplest way to understand Small Business is to think local and personal.  Whether the shop is downtown, tucked in a shopping plaza off a main road, or on the corner in your neighborhood – it's personal.
Small Businesses are ones you can go to with a challenge and they'll rise to it. At Cravin' Wine, Diane and Dan Moses' clientele range from connoisseurs with a refined palate to consumers with a limited wallet. During the roundtable, Mary Lou Infinito of United Hospice relayed that she had asked Dan to find a special vintage bearing her family name. He did and now Mary Lou has completed a huge chunk of her holiday shopping.
The round table participants conveyed that there is a certain confidence that comes with every purchase from a Small Business because they know their stuff. When you enter a local shop you're more likely to find someone who is interested in helping you find the right thing, not just some-thing.
Dana Stone owner of Tidewater Appliance explained that she personally works with customers to find the appliances that suit their budget, their household needs and their décor. Small Businesses like hers are able to access other brands and models that the giants just don't or won't carry.
Dan Spangler owner of A Dog's Dream offers boarding and doggy daycare along with grooming, training and health maintenance for dogs. Spangler said that he has built his business from excellent word of mouth proving that good news travels fast, especially in a small town. The group agreed. One member noted that being a local Small Business owner means that you live with your customers and you want each encounter to be a positive one.
Spangler also supports other Small Businesses.  When he has a client he can't accommodate, he refers them to someone he trusts like local pet sitter Jeanne Crockett of Crockett's Critter Care.  With a twinkle in her eye, Crockett announced that she has written out Christmas cards to each of the pets (not the owners) she has looked after over the years.
As the Small Business Roundtable adjourned it was clear that with their knowledge, service and smiles the Small Business owners are ready for this holiday season and as always, it's personal.
Submitted by: Jane Maulucci, The Reactive Voice LLC