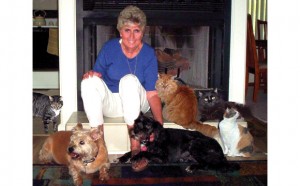 It is that time of year again – the Pals for Paws Raffle Ticket Campaign. Please don't forget to send us back your raffle tickets and donation. It is even more important than ever before. The main goal of Pals for Paws is to provide funding for an affordable spay/neuter program for those people that cannot afford to have their animals fixed.    We dream about the day when there are no more unwanted dogs and cats – and especially no more feral cat colonies reproducing more and more kittens. Even though we have not found it necessary to advertise, through word of mouth, our program is very successful.  Successful to the tune of 41 applications received last week.  So far this year, we have spayed or neutered 169 dogs and 220 cats. We are so successful that we are overwhelming Animal Care Center, the only veterinary in New Bern that will work with us in this program. Currently, they are able to spay/neuter three animals, three times a week. To increase this, they have asked us to pay for two more spay packs that will enable them to have two more procedures three times a week. This means fifteen dogs and/or cats will be fixed weekly.  Right now, the waiting time to get an appointment is six to eight weeks. This is not good if you have a pregnant cat that needs to be taken care of immediately. Dr. Williamson has agreed to do the additional procedures along with his usual practice if we can provide the tools.
These two packs cost $1264. We feel that it is important that we authorize them to purchase this additional equipment. Spay packs are packets of instrument used to spay/neuter. After use, they are sterilized and able to be used again and again.  This will make a big difference.
As long as we have the financial support of the community, we will be able to continue on with this program. Don't forget us. If you did not get a packet of tickets, or want more, give us a call. Our volunteers are out walking the neighborhoods, distributing these envelopes to your newspaper boxes. Not everybody has a newspaper box so we are not able to leave anything at those homes. It is not that we forgot you, but the law does not allow us to put unstamped things in mailboxes. Just give us a call, and we will get tickets to you.
As a bonus to helping us, you might win $250/100/50 for your holiday shopping pleasure. The drawing will be held on Thanksgiving and we will notify you if you are a winner.
Thanks to everybody that is helping us.  As a community working together, we can make a difference
For more information, contact Pals for Paws – P.O. Box 14740, New Bern, NC 28561, 252-637-7387
Submitted by: Bonnie Compton, President, Pals for Paws