Broad St. Social Club is Downtown New Bern's live performance & party rental venue. Located at 411 & 413 Broad Street. Call 252-259-1134 to reserve seating or additional show info.
Listen to featured performers at: www.reverbnation.com/venue/broadstsocialclub. "Like" us on Facebook.
UPCOMING CONCERTS
Friday Oct. 5, DO NOT MISS!
The Barefoot Movement (Jonesborough, TN) – americana / bluegrass
8pm seated show is $10 and 10:15pm general admission is $5.
barefoot-movement.com/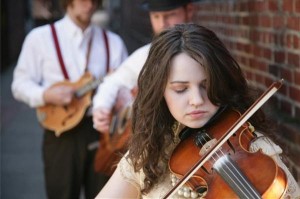 The Barefoot Movement is a quartet of immensely talented musicians from North Carolina and Tennessee whose music successfully melds Americana influences with the invigoration of acoustic modern rock and jazz. Drawing from the styles of southern front porch bluegrass, folk, acoustic rock, and old-time, The Barefoot Movement, with their original songs and interweaving harmonies, converge the old and new!
Saturday, Oct. 6
Improv hosted by John Van Dyke
Show begins at 9pm. Donations requested to support local theatre community.
Monday, Oct. 8, FREE SHOW!
ATO Record's Danny Barnes (Port Hadlock, WA) – banjo / folk
Show begins at 8pm. http://www.dannybarnes.com
Part Southern gentleman, part humble artist, Barnes is being more than a bit self-effacing with this statement. Widely regarded as one of the most innovative and genre-bending artists of his craft, Barnes' musical interests are both varied and adventurous, and he incorporates that versatility into a progressive approach to an instrument that is musically polarizing and steeped in tradition. Although he demonstrates an appreciation for the history of the bluegrass, country, and folk music from which the banjo's reputation was born, his inventive take is what truly separates him from his contemporaries…using the banjo as his 'weapon of choice' to play non-traditional music like rock, fusion, and jazz with electronic percussion and loop elements.
Friday, Oct. 12, $5
My Three Kilts (Elroy, NC) – Celtic pub punk
Show begins at 9pm. www.mythreekilts.com
My Three Kilts ain't your grandpa's Celtic music. We have as much in common with the Ramones as we do with The Dubliners. Combining traditional Celtic influences and instrumentation with punk rock influences, ideals and attitude, we play a unique brand of Celtic/Pub/Punk. Shows are punctuated with blasts of music and interactions with the audience.
Saturday, Oct. 13. All day
Carolina Comic Book Show
Oct 14 & Oct 15. $5
Fox Street All Stars (Denver, Co) – funk
Show begins at 9pm. Watch Fox Street All Stars in action!
Friday, Oct. 19
Improv hosted by John Van Dyke
Show begins at 9pm. Donations requested to support local theatre community
Saturday, Oct. 20
ReDo Fashion Show with guest performances
Show begins at 9pm. No cover.
Saturday, Oct. 27
Halloween show, $15 in advance – On Sale Now!
UNKNOWN TONGUES – Cajun Zydeco
Sunday, Oct. 28, $5
Turbine (NYC) – jam band
Show begins at 8pm.
Tuesday, Oct. 30, FREE SHOW!
Kiernan McMullan (Dublin, Ireland) – acoustic soul
Show begins at 8pm.
Wednesday, Oct. 31
Zombie Apocalypse Dance Party
Open to the Public, Monday – Saturday from 6pm until.
No cover charge during non-entertainment hours and evenings.
Weekend events at 9pm. Weekday events at 8pm. Box Office opens 1 hour prior. Tues: Game night. Wed: Open Mic. Art Bazaar every Saturday in Nov. & Dec.
NOW BOOKING HOLIDAY PARTIES! Contact; 411broadstreet@gmail.com or 252-259-1134.
Submitted by: Douglas Merrill, Broad St. Social Club, 411 Broad St., Downtown New Bern, NC