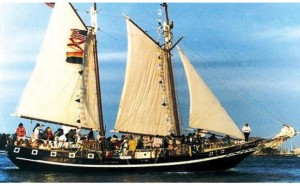 Tall Ship Sails and Dockside Tours
New Bern Grand Marina, New Bern, NC
The 74' Topsail Schooner WOLF docked from Aug. 13 – 16, 2012, at New Bern Grand Marina at Bicentennial Park.
Take a step back in time aboard the Conch Republic's 74′ traditionally rigged topsail schooner WOLF!
Tall Ship Pirate Sails and Sunset Cruises, August 15 – 16, 6:30pm – 8pm and a day cruise on August 16 from 11am – 12:30pm Cost: $50 Adults & $25 Kids under 12.
Free Dockside Tours: August 15 – 16, 2 – 4pm.
Conch Republic Navy Dockside Reception, August 14, 6 – 7:30pm. Cost: $10
Reservations Required. Private Charter Sunset Cruises Available!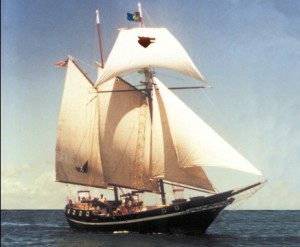 The WOLF is a classic 74' gaff rigged topsail schooner built in 1982-1983 in Panama City, Florida by Master builder Willis Ray and Finbar Gittelman, Admiral First Sea Lord of the Conch Republic, who also serves as the ship's master. Designed by Merit Walter, the WOLF is a Norfolk Rover class steel hull schooner.
Topsail Schooner WOLF, Flagship of the Conch Republic & Florida Keys Vessel History:
WOLF is home ported at Safe Harbour Marina in Stock Island Key West and is owned and operated by Key West Packet Lines, Inc. Designated the Flagship of the Conch Republic and the City of Key West, WOLF is patterned after the blockade runners that plied the waters of the Florida Straits, Caribbean Sea and Atlantic Ocean in the 19th century. A Key West icon, the WOLF has been featured in numerous publications, films and documentaries.
WOLF is known for her humanitarian Mission of Mercy Sails and has taken donated relief supplies to Port Antonio, Jamaica after Hurricane Gilbert (1987), Guanaja, Honduras after Hurricane Mitch (1998), Hope Town, Abaco Bahamas after Hurricane Floyd (2004) and to West End, Grand Bahama after Hurricane Ivan (2005.) In 1998, WOLF transported members of the Interfaith Pilgrimage of the Middle Passage to Cuba on their journey of retracing that ancient route of slavery.
In February 2010, WOLF traveled to earthquake ravaged Haiti, carrying donated relief supplies.
WOLF's 2012 Summer East Coast Ambassador Voyage includes visits to Beaufort & New Bern, NC, Hampton Roads, VA, Eastport Annapolis, MD, Baltimore, MD, Cape May, NJ, Bristol & Newport, RI, New London & Mystic, CT and other historic ports of call.
WOLF has also participated in OpSail Miami 2000; Cayman Islands' Pirates Week 2000; Tampa's 2001 Gasparilla Festival; Americas' Sail 2002 (Port Antonio, Ochos Rios and Montego Bay, Jamaica and St. Petersburg, Florida); Sail Mobile Tricentennial Celebration 2002; Cayman Islands Quincentennial 2003; the 2005 Lee Island Pirates Festival, Ft. Myers, FL; Americas' Sail 2006 in Beaufort, NC; Green Turtle Cay, Abacos Bahamas 2006 & 2007 Island Roots Heritage Festival.
Bookings and information: 305-296-9694 or SailAway@SchoonerWOLF.com
Submitted by: Julie McEnroe, The Schooner Wolf