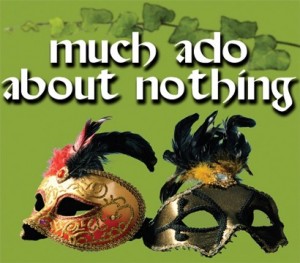 Carolinian Shakespeare Festival at Tryon Palace: August 2 – 19, 201
Romance and comedy take the stage as the Carolinian Shakespeare Festival presents "Much Ado About Nothing," opening Friday, August 3 at 8:00 p.m. at the North Carolina History Center.  This marks the beginning of the festival's fourteenth season in New Bern. The festival will take place in Cullman Performance Hall, located at 529 South Front Street in New Bern, North Carolina.
"This will be a marvelous festival!" states director Mary McGinley, "It's a delightful play, one of Shakespeare's most popular comedies. We are so happy that Tryon Palace is helping us to present it. We are pleased to announce that Arendell Parrott Academy will also be our presenting sponsor for this production."
In this spirited comedy, when soldiers return from war the romantic battles begin.  Reluctant lovers Beatrice and Benedick elevate the art of the quarrel to a "merry war" of glittering wordplay.  In sunny Italy, hearts are won, lost and won again all for the glory of love – and who gets the last word.  The play will be performed by Carolinian Shakespeare Festival's company of professional actors, supported by the talents of local artists.
Performances will be held on Thursdays at 7:00 p.m., Fridays and Saturdays at 8:00 p.m. and Sundays at 2:00 p.m.  Sunday matinees will be preceded by a Prologue, an informal audience discussion with the director at 1:30 p.m. There will be a special Preview Performance on Thursday August 2nd at 7 p.m.  Opening night is Friday August 3rd; closing is Sunday August 19th.  Ticket prices are: $28 Adults, $22 Seniors, $20 Tryon Palace Council of Friends members, $14 Students and Active Duty Military.  There will be a special discount price of $12 for all seats on the night of the Preview, August 2nd.  The Carolinian Shakespeare Festival will also be presenting two free concert readings of "Henry IV Part 2,"  one at Old Theatre in Oriental on August 8th at 7p.m. and one at Tryon Palace on August 11 at 2 p.m.  Check the festival's website, www.csfest.net, for details.
Tickets for "Much Ado About Nothing" are available for purchase by phone through Tryon Palace: 252-639-3524 or toll-free at 800-767-1560 Monday through Friday from 9 a.m. to 5 p.m.; and at the North Carolina History Center Ticket Desk at Tryon Palace during open hours.  For more information, visit the Carolinian Shakespeare Festival's website at www.csfest.net or www.tryonpalace.org.
The Carolinian Shakespeare Festival is produced by the New Millennium Theatre Works, Inc. with the sponsorship of Tryon Palace and Arendell Parrott Academy. Information on Arendell Parrott Academy can be found at www.parrottacademy.org.  New Millennium Theatre Works, Inc. is a professional, non-profit theatre organization dedicated to enriching the lives of the New Bern community through the development of the arts and culture.  The Carolinian Shakespeare Festival is supported by the North Carolina Arts Council, an agency funded by the State of North Carolina and the National Endowment for the Arts, by the Harold H. Bate Foundation. NMTW is grateful to Public Radio East for its continuing media sponsorship.
Submitted by: Anna Smith, Carolinian Shakespeare Festival