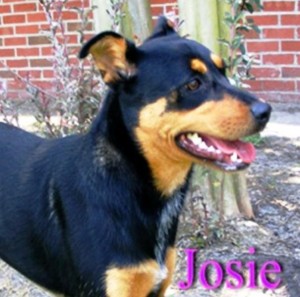 Do you want laid back?  Meet Josie. She is a 45 lb, female, black and tan shepherd mix. We have been having a debate about how much shepherd she is. Who knows what breed. She is just plain wonderful and does not need a title.  She loves people, especially kids and other dogs – but no cats please. She will make an excellent family dog. She loves to play but is not hyper. When the weather cools down, she will go jogging with you, to the beach or chill on the sofa. You can't go wrong with Josie.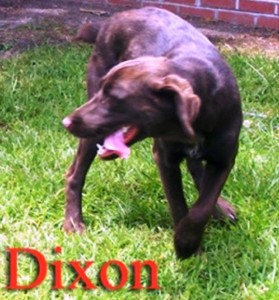 Dixon is a beautiful, chocolate brown Weimaraner mix pup. He weighs about 45 lbs but might get a bit bigger. He has lots of puppy energy and loves to play. He will make a great family pet with older children to run with. He came in to the Craven/Pamlico Animal Services as a stray and nobody claimed him. His great personality singled him out as a candidate for the New Leash on Life program.  He would love to run, jog or sit by your side watching TV. He loves people, other dogs and even seems to get along with cats.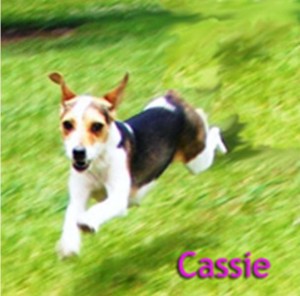 How cute can a dog be? Cassie is a 20 lb., female Jack Russell mix. She is about two years old. She lived in a home with lots of other animals. Cassie is full of energy and will be happiest with a family that will work with her and play a lot. She gets along great with other dogs and children but probably not cats. She would not be happy left on her own for long periods of time. Cassie will make a great family pet especially if you have other dogs for her to play with.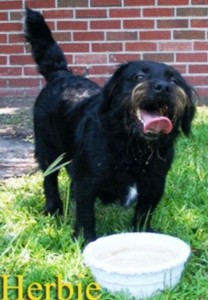 Remember Herbie the VW. Well here is Herbie the VW dog. He is short, stocky and full of spunk. Herbie is a 2-3 year old, 30 lb., neutered Terrier mix. He was brought to the Craven/Pamlico Animal Shelter when his family had a new baby.   When he came in he captured everybody's heart and it was decided to put him in the New Leash on Life program. Herbie loves people and is good with kids and other dogs — but no cats. His short legs love to run and play – especially with a ball. He has a beautiful black coat with a mustache and beard. He is very handsome and loves to run and play – especially with a ball.
Josie, Dixon, Herbie, and Cassie are currently, at the Craven Correctional Institution being trained by an inmate. They are being taught housebreaking skills  as well as crate training, leash training, and basic obedience skills. They will be "move-in ready" for a lucky family at Graduation on September 12th.
Would you like to bring one of them home?
If so, it is necessary to complete the application found on www.palsforpaws.org and email it to bonnie@palsforpaws.org.
Bonnie can be reached at 252-638-2358 to discuss your qualifications and arrange a home visit so that you can go to the prison to meet them in person.
Submitted by: Bonnie Compton, President of Pals for Paws