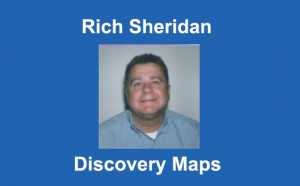 I'm happy to announce that Rich Sheridan, owner of Crystal Coast and New Bern Discovery Map has joined New Bern Now's team as the "Map Man"!
Rich has been advising New Bern Now since 2010. He has been involved with the strategic development of feature enhancements to both the New Bern Now newsletter and blog. Rich is a media professional with 24 years experience working for the publisher of Time, Fortune, Sports Illustrated, and People magazine. Rich and his wife Sallianne live in New Bern, NC and have three sons.
Check out his interactive Discovery Map of New Bern here: https://newbernnow.com/discovery-map-of-new-bern-north-carolina.
Contact Rich by calling 252-649-0284, sending an email, visiting his website: www.DiscoveryMap.com or via mail: P.O. Box 14482, New Bern, NC 28561.
Tell us what you think by commenting below or sending an email. You can also visit New Bern Now's Facebook page.
Wendy Card