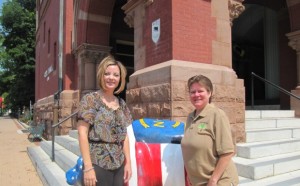 Radio Laura" Johnson and I had the pleasure of sitting down with Colleen Roberts, the City of New Bern's Public Information Officer.
Listen to the interview that will be aired on WNOS 105.9FM and 1450AM:
Are you tired of driving around Downtown New Bern searching for a free parking spot?
Colleen Roberts announced that the City is making progress in resolving the problems with parking Downtown. They've taken major steps to identify 200 free public parking spaces. This doesn't include street curbside parking.
The parking lot next to Morgan's Tavern and Grill has new signage and permit parking. There's free parking at the New Bern Farmers Market along with the Centennial lot in front of the Doubletree by Hilton Hotel. There's also free public parking behind the Fireman's Museum at the corners of Hancock and New Streets.
Colleen was also excited to announce that the City of New Bern has taken the leap into the Social Media age. Stay up to date on important city information and happenings by visiting their website, follow them on Twitter, and check out their Facebook page. Don't forget to click the "Like" button!
You can also watch the City of New Bern Alderman meetings on Suddenlink Channel 3 in New Bern or on Time Warner Cable, Channel 10, on Sundays at 8pm in Carteret County.
Special thanks to Colleen Roberts for taking the time to tell us what's happening with the City of New Bern. Thank you Laura Johnson for volunteering your time for the interview, great job!
Tell us what you think by commenting below or sending an email. Don't forget to visit us on New Bern Now's Facebook Page.
Wendy Card