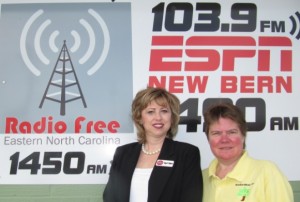 Laura Johnson and I met with Candidate Tanya Roberts who's running for the Craven County Board of Education, District 5. We wanted to find out why she decided to run and why people should vote for her. Listen to the interview here:
The District 5 Seat is the only seat up for election in the primary. It is currently held by Becky Kafer. After almost 20 years, she has decided to not run again. This opened the door for many interested citizens!
Tanya loves being involved in education and is the only one ofthe four candidates who has children in the public school system. She understands the dynamics of what's happening in the schools and what's needed for a good education, having been an advocate for her own children in elementary, middle and now high school.
She believes it's important for students to have a voice and considers herself to be the right person to advocate for them. Having worked with the schools on a professional level through her business, Tanya had the opportunity to interact with the special needs teachers and those working on their behalf. This experience, coupled with having her own children in the Craven County Schools provides Tanya with a dual understanding of needs as well as strengths.
As a social worker for 18 years, she truly connects with people from all walks of life.
Tanya grew up in a military family and attended school overseas and stateside. Coming from a versatile social economic background, Tanya is aware of the challenges that all students face.
She's been a voice for those who don't have one and/or aren't able to speak up for themselves. Tanya believes in education and wants to be there to advocate for students, teachers, principals and our new Superintendent, as they need to know that they are supported.
Tanya feels that "being an educator is one of the most important professions that we have. If they don't feel valued and respected, I don't think that we can expect them to effectively do their job. It is imperative that there is mutual consideration and support among the educators, parents and students".
Tanya is a successful business owner and is actively involved in the community. She works with the NC ABC Commission; is the state Project Coordinator for NC Operation Medicine Cabinet; and has been instrumental in Project Lazarus for the Coastal Coalition for Substance Abuse Prevention. She is the President of the National Association of Social Workers for NC. She also serves on the board for the Craven County Department of Social Services.
Find out more about Tanya P. Roberts by visiting her website or calling her at 252-665-3424.
Mark your calendars to vote on Tuesday, May 8th.
Tell us what you think by commenting below or sending an email.
Wendy Card