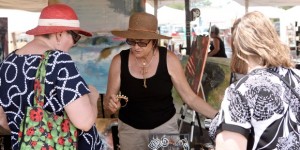 Bridgeton RiverFest Fine Art Festival producers today announced officially that the United States Power & Sails Squadron will attend this year's event on JUNE 23 & 24, distributing information about marine events, boat safety and membership in this essential organization – hey, we're surrounded by water here – we need this stuff!
Also recently signed is the Motley Tones, a popular pirate music group that will thrill you with their traditional ballads and sometimes bawdy, always amusing nautical chanties. We are thrilled to welcome them again this year to RiverFest. Along with all the other fine musicians at the festival, you'll be sure to be entertained.
Bakers, don't forget to register for the Blueberry BakeOff on Saturday, June 23! Bake up your your best blueberry recipe and you might win the $250 first prize!
Richard Toft is one of many of the fine artists that will be showing their works at RiverFest. Toft's work is described as contemporary realism created in the spirit of old world craftsmanship. His medium, egg tempera, is grounded in the craftsmanship of painting. It is possible to layer an infinite number of glazes into a "weaving" that has a distinctive luminosity. See a sample of his wonderful work on the Bridgeton RiverFest website, http://www.bridgetonriverfest.com/2012-artists-exhibiting.html.
Artists, the deadline for applying to RiverFest has been extended but spaces are filling quickly, so please be sure and APPLY SOON at www.bridgetonriverfest.com.
Submitted by: Pene diMaio, Arts Director/Co-Producer, Bridgeton RiverFest Fine Art Festival