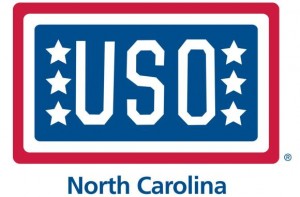 Tuesday May 22, 2012
Carolina Colours Golf Course, 3300 Waterscape Way, New Bern, NC 28562
Registration at 10:00am
Shotgun Start at 11:30am
Entry Fee:
$100/Individual
$350/Team
Active Duty rate: $75/Individual
$275/Team
100 Golfers/25 Teams
Entry Deadline: May 10, 2012
Enjoy a complete program of special events, free range balls, 18 holes of golf, lunch, USO memorabilia items, and prizes!
Entry fee includes: Green Fees, Golf Carts, Free Range Balls, USO Memorabilia Items, Breakfast & Lunch, Beverages, Awards Reception 2nd Annual USO of NC, Jacksonville Golf Tournament.
All proceeds support the USO of North Carolina, Jacksonville Center.
Scramble, USGA rules apply, and Mulligan packages may be purchased in advance or the day of the event.
The field is limited to the first 100 golfers/25 teams.  Entry fee of $100/individual or $350/team active duty rate $75/individual or $275/team.
Teams that sponsor a hole, play for $500 (normally $250 for hole and $350 for players).
Teams interested in having an Active Duty Service Member serve as their 4th player, contact the USO of NC, Jacksonville Center.
Sponsorships are available and tax deductible.
Please support the local USO who does so much for our Military Heroes!  Send donations to the USO of NC, Jacksonville Center, attention:
Golf Tournament
USO of NC, Jacksonville Center
9 Tallman Street
Jacksonville, NC 28540
For additional information, please contact Deb Fisher at (910) 455-3411 or cell (440) 567-6077 or dfisher@uso-nc.org.
Submitted by: Thea Kincaid for the USO of NC, Jacksonville Center