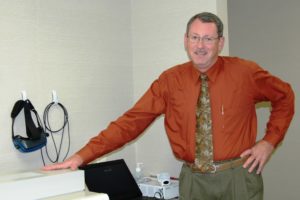 If you haven't already met Dr. Terry Hall (and even if you have) come to the next meeting of the Hearing Loss Association of America (HLAA).
He will be talking about "Why Can't I Hear with My Hearing Aids when there is Noise?" – A common problem. Terry Hall (prefers to be addressed as "Terry") is a prominent popular local audiologist who received his undergrad and graduate degrees from the University of Mississippi and his degree in Audiology from the University of Florida.
He's been here in New Bern quite a while, associated with the Coastal Ear, Nose and Throat group since 1980.
Terry is very warm and caring which carries over into his practice. Knowing that his patients often need him in a hurry, can't wait for an appointment they can come in, wait in the waiting room and be seen without an appointment (unheard of elsewhere). He has even been know to make a house call. Heard that he visited a patient who needed to check: was the problem the patient's hearing or the TV volume?
The Hearing Loss meeting will take place on Tuesday, August 24th, 11am at McCarthy Court Senior Living Apartments, located at 1325 McCarthy Blvd in New Bern.
The New Bern Chapter of HLAA provides support to connect you (with or without hearing problems) to help you improve communication and to better cope with hearing loss.
There is no charge to attend Dr. Hall's talk. The meeting is open to the public. You may call 252-637-7133 if you have any questions about this meeting.
Submitted by: Jerry and Nina Tamber of the New Bern's Chapter of the Hearing Loss Association of America