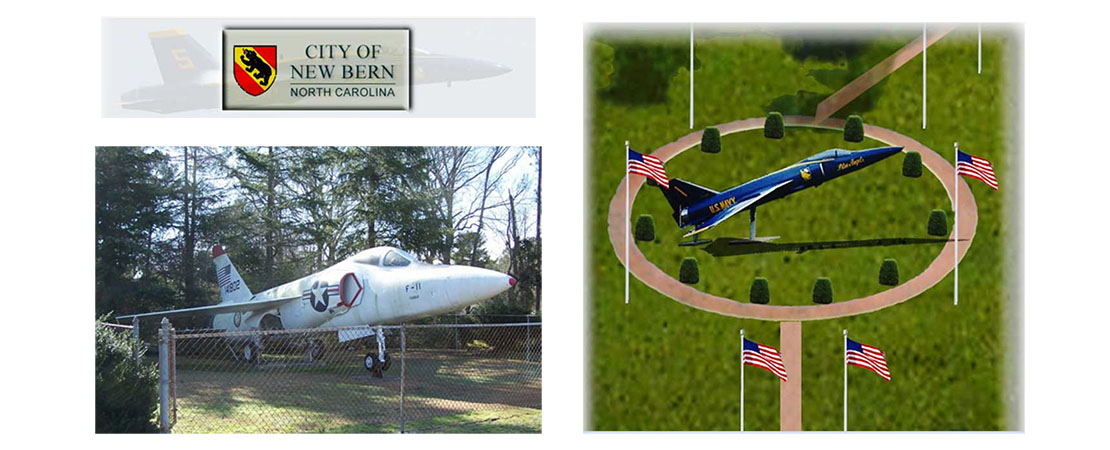 Did you know that the F11 Grumman aircraft located on Dr. Martin Luther King Jr. Boulevard was dedicated to the city in 1973? Major General Paul Fontana, Commanding General of the 2nd Marine Aircraft Wing at MCAS Cherry Point, dedicated the jet to New Bern in recognition to the City's close relationship with the Base.
UPDATE: The fighter jet was relocated to Lawson Creek Park in 2011. Here's a video spotlight with organizer and Swiss Bear Executive Director Susan Moffat Thomas, Fire Chief Bobby Aster and Thea Kincaid of Thea's Ideas:
As you drive by the F11 aircraft, you can't help but wonder what it would take to restore it. It is barely visible due to the growth of the city and its road system (see left photo).
Well, the Swiss Bear Downtown Development Corporation is currently working on an initiative to restore this 36-year-old aircraft and relocate it to a more prominent location for public display in Lawson Creek Park (adjacent to NC Hwy 70) as a tribute to the local military, past and present.
When the Swiss Bear Connectivity Committee initiated this project, research revealed the aircraft #141802 is a former Navy Blue Angels plane. If funds can be raised, the exterior of the aircraft will be restored to Blue Angels colors and be mounted in a flight altitude on pedestals high enough to make it visible from the adjacent NC Hwy 70 as an important landmark (see right photo).
The Connectivity Committee has secured the support of MCAS Cherry Point. They have agreed to provide a space in which the aircraft can be refurbished and painted, and they have recruited a number of Marines and civilian volunteers to assist with the restoration. The City of New Bern is providing the new site, transportation of the aircraft to and from Cherry Point and other in-kind assistance (long-term maintenance, landscaping etc.). They are working to reduce the actual cost to $25,00. Their goal is to complete the project in time for the City's 300th Anniversary Celebration.
Swiss Bear Downtown Development Corp. is a 501(C)(3) nonprofit corporation and is authorized to accept tax-deductible gifts in support of its non-profit projects, including the F-11 restoration. Contributions may be made to Swiss Bear Downtown Development Corp/F-11 project.
Contributors will receive a confirmation thank you letter and be notified when the project is completed with an invitation to the re-dedication ceremony.
Swiss Bear was established in 1979 to stimulate and coordinate the revitalization of New Bern's downtown and redevelopment of its waterfront. They have been very successful, and our historic downtown is a widely recognized success story. More information on Swiss Bear can be obtained by going to Our Website or calling 252-638-5781.