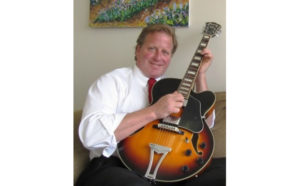 Lee Bettis, New Bern Mayoral candidate believes the role of the Mayor to be simply stated – Leadership. When asked his vision of New Bern, he stated "a city with a vibrant self-sustaining economy, a responsive and respected government and an involved and proactive citizenry". This vision includes vital historic districts, a downtown filled with thriving restaurants and shops, an artistic district where artists, musicians and artisans meet and market, rejuvenated neighborhoods and a thriving retail environment that provides the amenities for our growing population. It is his goal to protect the historical nature of this city, while promoting sound business and development. Welcome by-products will be job opportunities and a broadened tax base.
Lee attributes his desire for public service to his parents and credits former Chairman of the Armed Service Committee and Secretary of Defense Les Aspin with giving him a firm grasp of government and government budgeting. Following high school, Bettis enlisted in the United States Marine Corps serving one year of active duty and five years in the active reserves. He earned a Bachelor's degree in public administration from Slippery Rock University of Pennsylvania in 1987, and upon graduation began working for Mr. Aspin. In 2000 Bettis earned a Juris Doctor degree from Brooklyn Law School. He then took successive positions in two New York law firms. He did pro bono work for firemen and policemen injured in the 9/11 attack.
In 2003 Bettis moved to New Bern and took a position with the law firm of Emanuel & Dunn. He was elected to Leadership Craven in 2005. Bettis is a Teen Court Judge, serving as teacher and mentor to the trial team. He also served on the Mediation Center of North Carolina Advisory Committee. He founded Jodi's Heroes which raised medical relief funds for rescue and construction workers injured in the 9/11 tragedy. Lee has also raised money for victims of Hurricane Katrina and did pro bono work for Promise Place. Bettis is the founder of New Bern AWARE, a group organized to protect the City's waterfront access rights.
Lee feels that his platform of term limits, fiscal responsibility and transparency in government will result in a positive change. Relying on the principals of rationality, respect and responsibility he hopes to create a government responsive to its citizens and willing to make sustainable and financially sound decisions.
Submitted by: Bo Wernersbach, Campaign Manager for Lee Bettis, Lee Bettis for Mayor Website