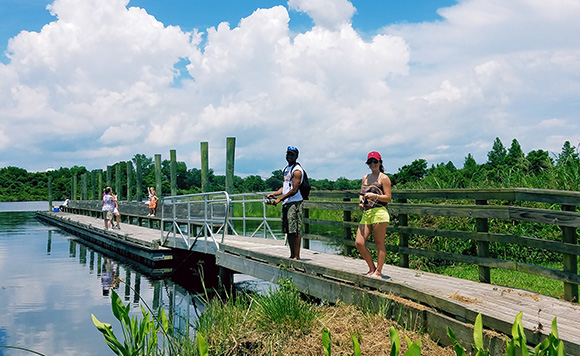 New Bern is a retreat for outdoor enthusiasts and nature lovers as there are countless outdoor activities to enjoy!
From biking, bird watching, boating, camping, fishing, golfing, hiking, hunting, paddling, running, to observing wildlife, and more…we have it all!
Nestled between the Neuse and Trent Rivers, New Bern is a haven for boaters, fishermen, and watersports fanatics! From large Marinas to off the path boat ramps, you'll find them here!
Fishing is plentiful! Some of the water is brackish so you can catch both salt water and fresh water fish, but you may need both licenses, so check the fishing regulations.
Go Scuba Diving with Divin' Dawgs, 801 Cardinal Dr., (638-3432)
Prefer paddling? Contact Sound Rivers (637-7972) for paddle trail maps and details about boating and fishing on our rivers.
The Croatan National Forest is a "Nature Lover's Paradise" and it's in our backyard! Discover carnivorous plants like the Venus flytrap, pitcher plant, sundew, along with other exotic plants. The Croatan spans approximately 160,000 acres. It's home to black bear, deer, wild turkey, quail, coyotes, bald eagles, beaver, bobcats, porcupine, alligator, and other wildlife species. Visit the Ranger's Station on Hwy 70 E (638-5628).
Check out the Latham-Whitehurst Nature Park off Broad Creek Rd.
Hunting/Fishing License Information (888-248-6834)
It's the bike stupid! Sounds trite but I really mean it. A road bike is the way to go for cross-country cycling. Years ago I wondered how folks could pedal mile after mile. I wanted to join group rides but I wasn't sure I could keep up. It wasn't until I entered the Senior Games cycling events in '96 at age 67 that I learned about road bikes. Until then I thought I was fast on my old French touring bike. I was riding about 100 miles per month and decided to give racing a try. But in the first […]
A special "Thank You" goes out to the National Night Out (NNO) Committee, New Bern Police Department, City Officials, Neighborhood Watch Groups, and local residents for making New Bern's NNO a great success! The NNO was developed to foster relationships between local law enforcement, community neighborhood watch groups, and local residents. Building relationships among these entities ultimately spreads crime prevention and awareness throughout our community. Many community groups joined forces for this event. Thanks again, to all who organized and participated in this wonderful event! Please feel free to share your NNO event experience by posting a comment.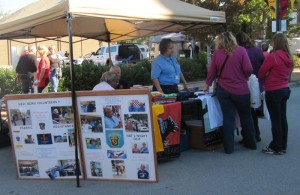 Are you recently unemployed and can't find a job? Are you retired and have a need for social interaction? Or are you employed and feel the need to make a difference in the community? Why not volunteer for one of many of our local non-profit organizations who provide vital services to our community? You may have never thought about volunteering because you're too busy. Take a look at some of the main reasons people volunteer: – Social networking – Maintain skill sets – Add to resume – Social interaction – Something to do – Meet influential people – Self gratification […]