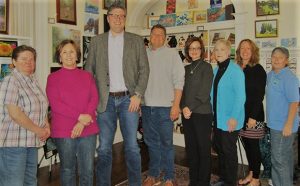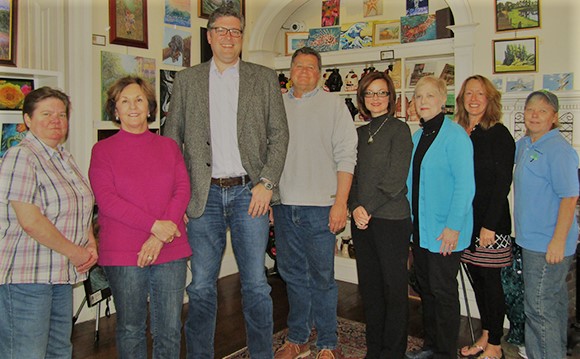 Do you want to find out about the latest happenings and hear positive news in and around New Bern? Then you've come to the right place!
Listen to New Bern Now and Beyond Internet Radio Station! Our Podcast shows are produced by the people and for the people of and visitors to New Bern and Eastern North Carolina.
The Podsquad meets every other week and has a great time talking about what's going on in our small town with big happenings!
A lot of you may already know members of our Podsquad. We have Lisa Bisbee-Lentz, Susan Moffat-Thomas, Rich Sheridan, George Oliver, Colleen Roberts, Jane Maulucci, Laura Johnson, Clayton Cheek and yours truly, Wendy Card.
Listen to our latest show from May 21, 2018:

If you don't have time to listen to the entire episode, click here to see the show notes and listen to parts of the episode.
What makes us different from the traditional media?
– You can listen to each show from the beginning to end, 24 hours a day at your own pace.
– We talk about human interest stories, but avoid politics, crime, and other controversial news. With all the negative news, we have always been a place where people can visit to experience encouraging news.
– We share the latest lineup of community events in and around town.
– We also go day trippin' and talk about what's happening throughout Eastern NC and the Crystal Coast.
– We've been joined by special guests like Peggy Walker Barnes, Martha and Dennis Leoni, Anna Bulszewicz, Dona Baker, Sabrina Bengel, Penny Zibula, Meg Wethington, Nancy Hawley, Breanna Kusnierczyk, Susan Braaten, Angelina Doyle, Kathy Morrison, Benny Thompson, Nancy Hawley, Bob Burns, Charles Tendell, Randy Foster, Mary Ann LeRay, Jeremy LeRay, David Backus, Beth Hardy, Detective Bobby McKone, Brad Kimry, Gail Bisbee, Dobert Owsley and the list continues to grow!
– Every episode, we give our Facebook followers a chance to give a 1 – 1 ½ minute "shout out" about their non-profits and businesses. The non-profit audios are also shared on New Bern's News Talk Radio Station WNOS 103.9FM and 1450AM.
– We're a Citizen Media company and our goal is to promote our community.
During the episodes, we will be sharing the latest information about our cozy and happening town of New Bern and Beyond. Beyond, meaning our travels throughout Eastern North Carolina.
You can hear our podcast shows and subscribe on our Libsyn Channel or tune into our latest episodes and radio interviews on ITunes.
These 45 – 60 minute shows are scheduled for every other week.
Please know that we haven't received any broadcasting training and we're doing our best to increase the quality of each show since we started in June 2014. We welcome any comments and suggestions as our goal is to promote our community.
If you'd like to set up an interview and spread the word about a special event or other interesting topic, please call 252-259-6853 or send us an email. We look forward to hearing from you!
Visit New Bern Now's Facebook page or sign up for daily updates by submitting your email address in the right margin on New Bern Now's website.
Wendy Card