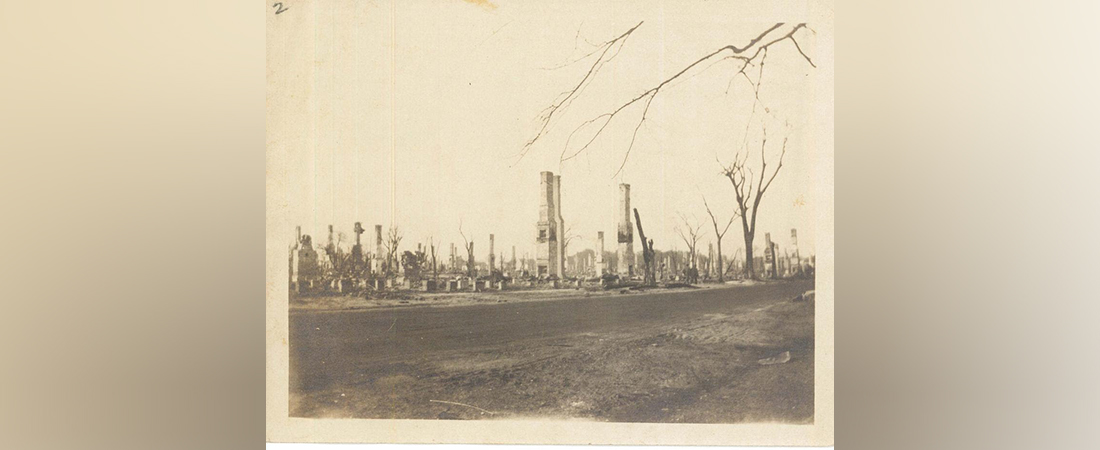 One hundred years ago, on a cold and overcast day in December 1922, 40 city blocks of New Bern were destroyed by fire. Two fires exactly. The first began in the early hours of December 1, at the Roper Mill at the Rowland Lumber Company in the Riverside community when a machine belt malfunctioned showering sparks that set sawdust ablaze. Two hours later, another fire began from chimney sparks at home on Kilmarnock Street in the Five Point area. Both fires were fanned by the day's high, near gale-force winds, and soon the fires were spreading fast, ravaging both homes and businesses. To add to this unfortunate mix, most of the city's firefighters were out of town in Raleigh attending the Eastern Carolina Football Championship game where New Bern High School was battling Sanford High School – leaving only a few behind to fight the blazing fires. Most of those at the game did not learn of the fire till after New Bern had won. When they arrived back home, nearly 1,000 buildings had been destroyed, and one fourth of the city's population was left homeless, mostly African Americans. In the days following, Fort Bragg sent eight freight cars of tents, cots and mattresses, and other equipment for the homeless, with other organizations contributing clothing, money, and food to assist. A temporary "Tent City" was established in Cedar Grove and at the Greenwood Cemetery for the homeless to thrive.
The Great Fire of New Bern was the largest urban fire in North Carolina. To mark the 100th anniversary of this fire, Tryon Palace has opened a new exhibit, The Great Fire of New Bern: Images on its 100th Anniversary, in the Cannon Gallery at the North Carolina History Center (529 S. Front Street, New Bern). The exhibit features photos and images from the Tryon Palace Museum collection and is FREE to the public for viewing and will be on display through January 2023.
The exhibit will also be part of a community commemorative weekend event taking place throughout New Bern, Thursday, December 1, through Sunday, December 4. The Great Fire Commemoration weekend will feature activities and exhibits for a deeper understanding about the day of the fire and the aftereffects of the fire on modern day New Bern. There will be special presentations, exhibits and guided and walking tours following the Trail of Flames. Contributors to this commemorative event, in addition to Tryon Palace, include the New Bern Historical Society, the Firemen's Museum, St. Peter's AME Zion Church, St. Cyprian's Episcopal Church, City of New Bern, African American Heritage and Cultural Center, Earl of Craven Questers, New Bern Tours, and the New Bern Development Authority (Visit New Bern).
Look for updated information this weekend at New Bern Historical. For more information on the exhibit at the North Carolina History Center, visit Tryon Palace or call 252-639-3500.
By Nancy Figiel