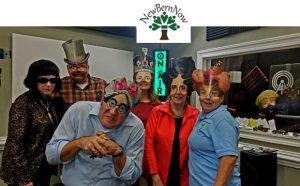 Episode 128
Connecting you with our community as we talk about the people, places, and the latest happenings in and around New Bern! During the show we talked about community news from locals; along with businesses and nonprofits! We also went Staytrippin' and Daytrippin'!
During this show, New Bern Now's Podsquad: George Oliver (Law Offices of Oliver & Cheek), Kathy Morrison (New Bern Historical Society), Colleen Roberts (City of New Bern), Rich Sheridan (Crystal Coast Discovery Map), Susan Moffat-Thomas, Charles Tendell, and I talked about the latest happening in our community on location in the Charles Tendell Studio located inside the O'Marks Bldg., 233 Middle Street Suite 107 in Downtown New Bern!
Special thanks to this episode's Sponsor, New Bern Web Design! Call Jeremy LeRay at 252-349-0270, visit them at 315 Metcalf Street, or check out NewBernWebDesign.com.
Listen here:

Show Notes:
00:45 – New Bern Web Design
2:16 – New Bern Historical Society updates:
– Ghostwalk
– Encore: The Last POW by Steve Tyson
– Gingerbread House Contest and Display
– Annual Lore Lecture: Retracing John Lawson's Voyage and Discovery
– Honour The Musical
12:08 – The History of Downtown New Bern's Renaissance
14:40 – Catching up with the Podsquad
19:03 – City of New Bern Updates
– Coed Volleyball League
– Kidsville Club Days
– Date Night Movie in the Park: The Proposal
– #LoveMyCity Campaign
24:25 – Discovery Map Makers
25:14 – Surf, Wind, and Fire
25:43 – Harvey W. Smith Watercraft Center
27:05 – Re-design of NewBernNow.com coming soon
28:08 – Where is Mr. Big?
29:32 – Social Media Minute
Staytrippin':
30:46 – Annual Night at the Barn
30:55 – Trick or Treating
32:24 – The Lighthouses of Orcas
33:08 – A Celebration of All Saints – All Saints Day
32:10 – Colors for Cancer 10K/5K/1M
33:48 – 19th Annual Crystal Coast Band Classic
34:01 – New Bern Cars and Coffee
34:09 – Craven Resource Council Block Party
35:27 – Walk-In Bathtub November Improv Show
36:47 – 7th Annual New Bern Walk to End Alzheimer's
38:55 – MERCI on Middle
37:19 – Coastal Women's Forum Dinner
37:41 – Open House: Coastal Carolina Regional Airport's Master Plan Update
38:33 – ArtWalk – New Bern
39:12 – 5th Annual Bacon and Brew Festival
39:27 – Hunchback of Notre Dame
41:10 – Coastal Photo Club's Fall Major Competition
41:42 – 4th Annual Rockin' for Relief for Homeless Veterans
42:14 – Annual Gingerbread Contest & Display
43:07 – Devoted To A Soldier
43:28 – Veterans Entrepreneurship Opportunities Lunch and Learn
43:48 – Tryon Palace Events:
– First Friday: Candlelight – A Décor Sneak Peek
– The Lasting Impact of the Barbour Boat Works Vessels of WWII
– Behind the Scenes: Costume Shop
– Veteran's Day at Tryon Palace
– Behind the Scenes: Museum Technology
45:50 – New Bern Farmers Market
46:08 – New Bern Music Calendar
These are only some of the events happening in and around town. Visit NewBernNow.com as we receive information and update the community calendar every day!
48:28 – Daytrippin' with the Crystal Coast Discovery Map
– Down East Folk Arts Society Concert
– Bearfoot Wade Live
– North Carolina Maritime Museum
51:38 – Social Media Minute
52:43 – Trivia: North Carolina State…
59:00 – Charles Tendell Studio and New Bern Live
59:14 – New Bern's News Talk Radio Station WNOS 103.9FM
Let us know if you want to join us as a guest or have any questions, comments or suggestions by calling 252-259-6853 or sending us an email at info@newbernnow.com.
Thanks for joining us and thanks for listening. Have a great day!
Wendy Card