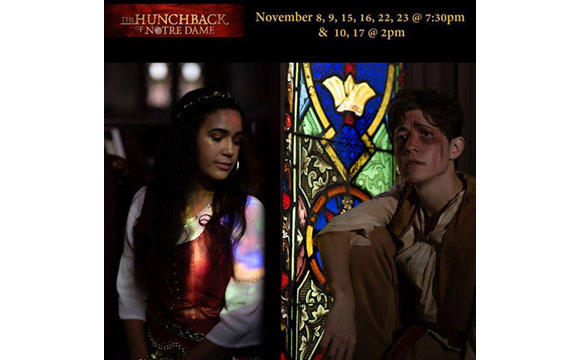 Fall has finally arrived in New Bern, and New Bern Civic Theatre and director Bethany Bondurant are celebrating by bringing a classic romantic drama to the stage with The Hunchback of Notre Dame, which opens November 8 and runs three weekends in November at the Civic Theatre.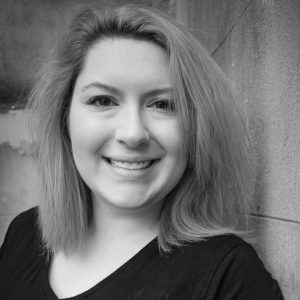 Bondurant, who has brought such classics as The Diary of Anne Frank and Charlotte's Web to the New Bern stage, sat down to answer a few questions about the production, which has been in rehearsal since early August.
What are you most excited about with this production?
I am most excited to share the talents of this cast with the community. We have many new faces onstage (new to Civic, not new to theatre) and they play their roles wonderfully. I truly feel that the level of talent of the cast will blow everyone away!
What do you want your audience to leave the theater with after seeing The Hunchback of Notre Dame?
I want the audience to leave feeling moved. The message that I'm trying to portray with this show is about finding the humanity in us all. There is a fine line with this story that drives the question of what separates monsters from men.
How are you putting your mark on this production?
I love telling stories that are dark, and this is definitely a dark show! I love trying to find the light in the darkness and use that in my story telling. I also pride myself on casting a production. I feel that I'm putting my mark on this production with the actors that I cast to tell this story. Everyone is perfect in their roles and help to tell this beautiful story.
What is the most important thing you can tell me about this production?
You will not want to miss this production. I feel that this is one for the history books in terms of theatre in downtown New Bern. The way that the production crew and staff have worked together to bring life to this story is beyond unbelievable. From the cast, to the crew, to the costumes, props, set, lighting, sound, I could go on and on… Everything has unified and this has truly been a director's dream. For the first time since I started directing, I feel that my vision has fully been brought to life. All of the images that have been in my head for months are now moving and dancing across the stage. The level of professionalism that everyone has brought to the table makes this show what it is! You will regret it if you don't see this show!
Showtimes for The Hunchback of Notre Dame are November 8, 9, 15, 16, 22 and 23 at 7:30 p.m. and November 10 and 17 at 2 p.m. Tickets are available online at https://www.newberncivictheatre.org/tickets, in person at the New Bern Civic Theatre Box Office or by phone at 252-633-0567.
Bethany Bondurant Bio
Bethany Bondurant (Director) is excited to make her directorial debut with NBCT. Bethany currently teaches Theatre Arts, English, and AVID at West Craven High School. Some of her favorite shows that she has directed include The Diary of Anne Frank (RTP), The Sound of Music (RTP), Charlotte's Web (RTP), Seussical (RTP), and Carrie the Musical (WCHS). She is also a member of New Bern's improv team, Walk in Bathtub. When she isn't onstage, directing, or teaching, you will find her hanging out with her awesome daughter, Caiden.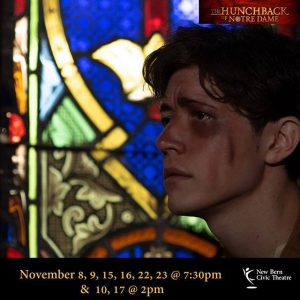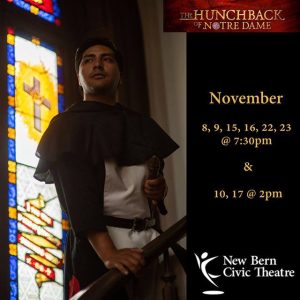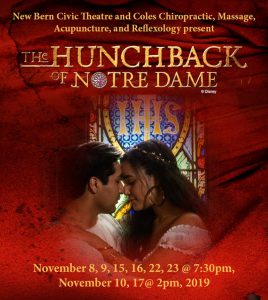 By Contributing Author, Michelle Garren Flye