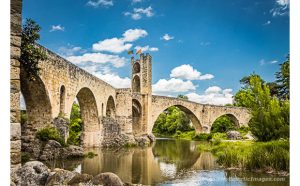 Is your world view influenced by the talking heads on TV? Do you believe there's nothing you can do about the negativity and divisiveness in the world? If so, I'm here to tell you there are many things you can do to expand your world view and chip away at that negativity and divisiveness. One powerful way to accomplish these is to travel. Here are three ways you can build bridges through taking your personality, abilities, and optimism on the road.
Go off the beaten path: Paris, Rome, and Madrid are incredible places to visit, but there is more outside such popular tourist magnets to endlessly feed your appetite for history, culture and, adventure.
Try heading for smaller towns and villages. You will find a goldmine of hidden treasures and surprises to make the effort of locating them well worthwhile. In the Portuguese town of Guimaraes, my husband and I stumbled upon an extraordinary exhibit of Leonardo DaVinci's inventions. And in a small village in Tuscany, we discovered the best gnocchi with gorgonzola sauce we ever tasted in a tiny family restaurant. The farther afield you venture, the more hidden treasures you'll find in the people you meet.
Immerse yourself in a new location and culture: Renting an apartment or house sitting abroad will allow you to become a part of the local community and culture. For four years, we spent two months or more in Boquete, a town in Panama's Western region. We lived in rented casitas, shopped at the local markets, treated ourselves to meals at hole-in-the-wall restaurants serving traditional Panamanian food, and volunteered our skills for local organizations. Through our daily interactions with Panamanians, we learned a great deal about indigenous culture and what makes the country tick. We even managed to learn a bit of Spanish along the way.
Don't have that kind of time? Opt for an AirBnB instead of a hotel. Whether you end up in a small apartment or a room in someone's home, you can learn much from your hosts. And you'll find they're eager to learn from you.
Volunteer: Volunteering abroad is a rock-solid bridge builder. Aside from our work in Panama, we have volunteered for organizations in Spain, Italy, Germany, and, most recently, in Romania as facilitators in programs that help professionals improve their proficiency in English.
The programs work like this:
The program covers your room and meals for five days to one week. From our experience, the hotel rooms or cabins are clean and comfortable, and the regional food is delicious.
You spend your days speaking with students one-to-one or in groups, engage in fun activities designed to encourage the students to use their English, and hang out in the bar once the structured portion of the day is complete.
You put in 10-12 hours, go to bed exhausted, and wake up the next morning eager to start all over again.
Students and volunteers arrive as strangers and leave as family. The bonding that occurs during these programs is truly magical.
You will learn much about different parts of the country in which you are volunteering from the students. This will help you find those lesser-known towns and those hidden treasures (see 1.).
Of course, you don't have to travel abroad to build bridges. Our country is replete with opportunities to do all the things mentioned above. The important thing is that you are open to new experiences, new people, and new ways of seeing our world. Add to this a willingness to share your culture and beliefs, and you have all the tools you require to be a master bridge builder.
If you are interested in exploring volunteering abroad as an English facilitator, check out the post on Diverbo in Spain on my blog, or contact me through the blog or send me an email.
Penny Zibula is a freelance travel writer and blogger based in New Bern. Visit her blog at SixLegsWillTravel.
By Contributing Author, Penny Zibula, Six Legs Will Travel