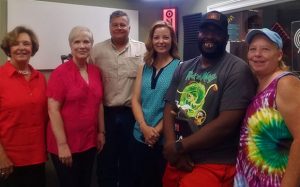 Episode 126
Connecting you with our community as we talk about the people, places, and the latest happenings in and around New Bern! During the show we talked about community news from locals; along with businesses and nonprofits! We also went Staytrippin', Daytrippin', and Nighttrippin'!
During this show, New Bern Now's Podsquad: Colleen Roberts (City of New Bern), Kathy Morrison (New Bern Historical Society), Rich Sheridan (Crystal Coast Discovery Map), Susan Moffat-Thomas, Charles Tendell (New Bern Live), with and I talked about the latest happening in our community on location in the Charles Tendell Studio located inside the O'Marks Bldg., 233 Middle Street Suite 107 in Downtown New Bern!
Special thanks to this episode's Sponsor, Pollock-Best Funerals and Cremations located at 2015 Neuse Blvd. in New Bern. For more information call, 252-637-5111 or visit PollockBest.com.
Listen here:
Show Notes:
00:57 – Pollock-Best Funerals and Cremations
Catching up with the Podsquad
2:11 – Ghostwalk 2019
5:04 – The History of Downtown New Bern's Renaissance
5:25 – North Carolina Hurricane History
7:05 – City Hall Updates
– Construction sites
– Public Power week
– North Carolina License Plate that honors Linemen
16:36 – Kidsville and New Bern Now Magazine
19:44 – Road trips and Fall Festivals
22:31 – Howard Matthews "New Bern's Music Man"
23:15 – 4th Annual Rockin' for Relief Homeless Concert
23:51 – Gingerbread House Classes
25:24 – Interview with Mitch Lewis about upcoming Mali Vibes, Arts to End Genocide, and the New Bern Rotary Clubs
33:07 – Interview with Lynne Harakal about MUMFEST 2019
53:40 – I Love My City Campaign #ILoveMyCity
Staytrippin':
57:25 – Craven County Fair
48:40 – Grand Opening of ParkLane Integrative Health Practice
49:41 – Veterans Employment Base Camp and Organic Garden Hosting AGVET Agricultural Training "Meet and Greet": Farming and Business Organizations
50:14 – 34th Annual BBQ Chicken Dinner
50:33 – The Last Suit
50:41 – An Evening of Mozart & Elgar with Conductor Wesley Schulz
50:51 – NC Radio Jam
51:17 – ArtWalk – New Bern
51:33 – Disney "Alice in Wonderland" JR
51:46 – Community Indoor Garage Sale
51:57 – Craven County Clean Sweep
52:03 – New Bern Drum Circle
52:10 – Business Ownership: Good, Bad and Ugly
52:23 – Lunch & Learn: The Last POW by Steve Tyson
52:33 – "Before Your Last Breath" Meet the Author – Jilliana Raymond
52:42 – MUMFEST 2019
52:48 – Household Hazardous Waste Collection Events
53:16 – "How My Hearing Loss Made Me a Superhero!"
54:02 – Tryon Palace Events
– First Friday: Dueling – An Affair of Honor
– Behind the Scenes: Conservation Lab
– Behind the Scenes: Costume Shop
54:58 – Fall Fest at VFW 2514
Night Trippin'
55:26 – New Bern Music Calendar
55:44 – Daytrippin'
– 32nd Annual North Carolina Seafood Festival
– Surf Fishing Workshop Weekend
– Introduction to Wooden Boat Building
58:40 – Social Media Minute
1.00.41 – Charles Tendell Studio and New Bern Live
1:00.52 – New Bern's News Talk Radio Station WNOS 103.9FM
Let us know if you want to join us as a guest or have any questions, comments or suggestions by calling 252-259-6853 or sending us an email at info@newbernnow.com.
Thanks for joining us and thanks for listening. Have a great day!
Wendy Card