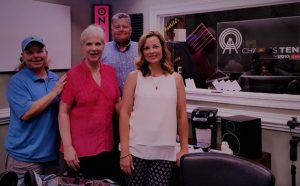 Episode 123
Connecting you with our community as we talk about the people, places, and the latest happenings in and around New Bern! During the show we talked about community news from locals; along with businesses and nonprofits! We also went Staytrippin', Daytrippin', and Nighttrippin'!
During this show, New Bern Now's Podsquad: Colleen Roberts (City of New Bern), Kathy Morrison (New Bern Historical Society), Rich Sheridan (Crystal Coast Discovery Map), Charles Tendell (New Bern Live), with and I talked about the latest happening in our community on location in the Charles Tendell Studio located inside the O'Marks Bldg., 233 Middle Street Suite 107 in Downtown New Bern!
Special thanks to this episode's Co-Sponsors, Neuse Realty, 601 Broad Creek Rd., 633-4888 and Bear City Impact, 317 Pollock St., 252-631-9608.
Listen here:

Show notes:
00:59 – Neuse Realty
02:24 – Interview with Michael Eury, Editor-in-Chief of Back Issue Magazine and Recipient of a 2019 Will Eisner Award
11:30 – National Night Out
14:02 – Lunch and Learn – North Carolina's Mystery Tribe: The Neusiok
15:54 – Benefit Dinner for Honour, The Musical
17:03 – Update on Kidsville 2.0
18:06 – The Bear City Show
19:26 – Exploring Greenville
21:27 – Interview with Pat Drake about the Tryon Civitan's "No Child Wet Behind" Diaper Drive
20:32 – Water Rescue Training with New Bern Fire Rescue and the Cities of Greenville and Rocky Mount
30:04 – Interview with Angelina Doyle, Executive Director of the New Bern Civic Theatre and Actor in the upcoming Assassins, The Musical
41:10 – Bear City Impact
Daytrippin'
43:18 – Cookout celebrating Grand Introduction of New Bern Strong Bear Statue
43:28 – Palace Pours: Shandies in the Shade
43:50 – ArtWalk – New Bern
44:22 – Survivor Knights New Bern
45:08 – YPG River Jam
45:29: The Enchanted Baroque – Community Concert
45:38 – Grand Opening of Empower Taekwondo
46:04 – Comedy Showcase with Matt White and Friends
46:11 – Date Night Movies in the Park: The Proposal
46:35 – U.S. Coast Guard Auxiliary Navigating Local Waters Safety Class
46:54 – Benefit Dinner for Honour, The Musical
47:04 – Footloose on the Neuse
47:46 – Big Book Sale
48:11 – Neuse River Summer Slam Fishing Tournament
48:31 – Free Horticultural Workshop
48:59 – Hearing Loss Association of America-New Bern Chapter with Speaker Traci Nolan
49:49 – Coastal Women's Forum Luncheon
49:59 – New Bern Missions of Mercy Dental Clinic
50:29 – Stuff the Bus
50:40 – Date Night Movies in the Park: Fools Gold
50:50 – Tryon Palace Events:
– Behind the Scenes: Museum Technology
– Discovering Tryon Palace: Outlander in the Governor's Palace
– Behind the Scenes: Costume Shop
– Stedman Graham, Robert J. Brown to Present Lessons on Leadership and Identity
– Live and Local: Tryon Palace Beer Festival
These are only some of the events happening in and around town. Visit NewBernNow.com as we receive information and update the community calendar every day!
52:57 – Nighttrippin'
– North Carolina Music Zone at NCMZ.live.
– New Bern Music Calendar Facebook page.
53:51 – Daytrippin'
– Live and Local Breweries
– Morehead City Marlins
1:01.38 – Social Media Minute
– BrÜtopia
1:03:50 – Charles Tendell Studio and New Bern Live
The Podcast also airs on New Bern's News Talk Radio Station WNOS 103.9FM every Wednesday at 8 a.m. and 5 p.m.
Let us know if you want to join us as a guest or have any questions, comments or suggestions by calling 252-259-6853 or sending us an email at info@newbernnow.com.
Thanks for joining us everyone and thanks for listening. Have a great day!
Wendy Card