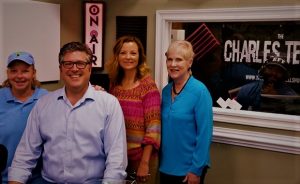 Episode 121
Connecting you with our community as we talk about the people, places, and the latest happenings in and around New Bern! During the show we talked about community news from locals; along with businesses and nonprofits! We also went Staytrippin', Daytrippin', and Nighttrippin'!
During this show, New Bern Now's Podsquad: Colleen Roberts (City of New Bern), Kathy Morrison (New Bern Historical Society), George Oliver (Law Offices of Oliver and Cheek), Charles Tendell (New Bern Live), with and I talked about the latest happening in our community on location in the Charles Tendll Studio located inside the O'Marks Bldg., 233 Middle Street Suite 107 in Downtown New Bern!
Special thanks to this episode's Sponsor, Steve and Jana Tyson with The Tyson Realty Group, located at 2301 Grace Ave., 252-675-9595.
Listen here:

Show notes:
1:00 – Steve and Jana Tyson, The Tyson Realty
1:25 – Catching up with the Podsquad
9:46 – New Bern Historical Society Update
– Auditions for HONOUR, the Musical and Benefit Dinner
– Ghostwalk Auditions
15:45 – City of New Bern Update
– First Street Improvements
– VOLT Center
– Battle of the Badges
– Kidsville 2.0 Community Build (Volunteers and Tools are needed)
– City Hall Clock Tower Re-installation
26:01 – Law Offices of Oliver & Cheek
28:32 – Social Media Minute
– Peace Counseling Christmas in July
Staytrippin':
31:02 – ArtWalk – New Bern
32:43 – Find out why New Bern's Art Scene exploded in 2012
34:12 – Marie Antoinette
35:07 – Braedon Welsh
35:42 – Teens Water Wars
36:30 – Aquapalooza
37:45 – Comedy Showcase with Matt White and Friends
36:07 – Tuppence Folk Duo Performance
38:29 – Shannon Grace Live
38:34 – Summer BBQ Fundraiser benefiting Realize U 252
38:42 – Footloose on the Neuse Summer Concert Series: Featuring Rivermist
39:09 – Haiku
39:52 – Concert in the Park in Fairfield Harbour at Red Sail Park
40:10 – IKF Point Muay Thai Kickboxing Tournament
40:32 – Hello Dolly
40:44 – Date Night Movies in the Park: Nights in Rodanthe
41:29 – Tryon Palace Events:
– Crystal Coast Musicians in Concert
– Garden Lecture Series
– Behind the Scenes: Museum Technology
– African American Lecture Series: "The Chicago Defender – A Beacon of Hope"
– The Fifes and Drums Corps of York Town Performance
– Discovering Tryon Palace: Outlander in the Governor's Palace and Outlander Home and Hearth
– Behind the Scenes: Costume Shop
– Summer Movie Series: Matilda
– Tryon Palace Multicultural Fair
48:10 – For an updated list of community events visit NewBernNow.com's Calendar
48:25 – Uplifting Haiku
49:13 – Nighttrippin'
– North Carolina Music Zone at NCMZ.live.
– New Bern Music Calendar Facebook page.
51:00 – Daytrippin'
– 12th Annual Carteret Community College Spanish Mackerel & Dolphin Fishing Tournament
– 18th Annual Blackberry Festival
– Sleep with the Fishes at the NC Aquarium at Pine Knoll Shores
53:50 – Tastebud Adventures – Foraging in the Forest
56:04 – Social Media Minute
58:19 – Rapid Fire Questions with the Podsquad
58:41 – Charles Tendell Studio and New Bern Live
The Podcast also airs on New Bern's News Talk Radio Station WNOS 103.9FM every Wednesday at 8 a.m. and 5 p.m.
Let us know if you want to join us as a guest or have any questions, comments or suggestions by calling 252-259-6853 or sending us an email at info@newbernnow.com.
Thanks for joining us everyone and thanks for listening. Have a great day!
Wendy Card