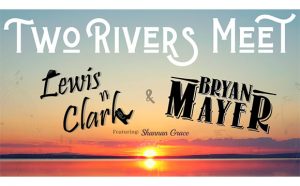 Lewis n Clark and Bryan Mayer Concert featuring Shannan Grace
Friday, July 5th at 7:30 p.m.
At RiverTowne Players Theatre in the Masonic Building on Hancock St. in Downtown New Bern!
Tickets are $20 for assigned seating and are available at: http://bit.ly/LNCnBryanMayerTix7519.
An evening of great music splashed with patriotism, celebrating the collaboration of some of New Bern's home-grown talent that will benefit local non-profit community theatre arts!
This is the FIRST TIME these two acts have performed together!
Submitted by: Von Lewis, Lewis n Clark