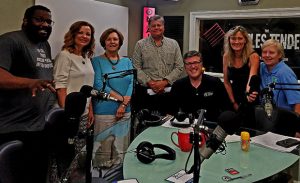 Episode 119
Connecting you with our community as we talk about the people, places, and the latest happenings in and around New Bern! During the show we talked about community news from locals; along with businesses and nonprofits! We also went Staytrippin', Daytrippin', and Night Trippin'!
During this show, New Bern Now's Podsquad: Colleen Roberts (City of New Bern), George Oliver (Law Offices of Oliver & Cheek), Tracey Stones (NCMZ.live), Susan Moffat-Thomas, Charles Tendell (New Bern Live), Rich Sheridan (Crystal Coast Discovery Map), and I talked about the latest happening in our community on location in the Charles Tendell Studio located inside the O'Marks Bldg., 233 Middle Street Suite 107 in Downtown New Bern!
We were joined by Special Guests Blaine Staat, Real Estate Agent with Weichert Realty – At Waves Edge and Deedra Durocher and Rose McNeal, Craven County Habitat for Humanity.
Special thanks to this episode's Sponsors: Carolina Creations, 317-A Pollock St. in New Bern, 252-633-4369 and Promise Land Market, 909-B Arendell St., Morehead City, 252-222-0244.
Listen here:

Show notes:
1:56 – Carolina Creations
4:23 – D-Day 75th Anniversary
6:00 – Catching up with the Podsquad
9:15 – Persimmons Restaurant – Live Music
10:00 – Fundraising Tribute Concert for the New Bern Civic Theatre
10:28 – Interview with Deedra Durocher and Rose McNeal, Craven County Habitat for Humanity
18:33 – Interview with Blaine Staat, Real Estate Agent with Weichert Realty – At Waves Edge
Staytrippin':
29:20 – Captain Ratty's Live Music
29:24 – Alisa Mike Live
29:29 – Brown Pelican Open Mike
29:42 – Date Night Yoga for Beginners
30:19 – Indoor Garage Sale
30:37 – 21st Annual Run for Shelter
30:59 – Flag Day Ceremony
31:03 – Walk-In Bathtub Improv – Celebrating Worldwide Knit in Public Day
31:53 – Fundraising Event for the Late Richard Allen Gaskins
32:25 – Lunch & Learn: From Pleasure Craft to War Craft: 65 Years of Barbour Boats by Lindy Cummings
33:10 – Summer Activities for Children Meeting with Craven Early Learning Network,
33:42 – "The Little Black Dress 2 Year Anniversary Party
34:06 – ArtWalk – New Bern
34:27 – Hurricane Preparedness Expo to Help Residents and Businesses
36:19 – New Bern Pride with Madame Z and the Pollock Street Family
36:44 – "Man's Best Friend" with Guest Speaker Dr. Danielle Rose of Dogs for Better Lives
37:20 – Behind the Scenes: Costume Shop
37:30 – NC Pre-Kindergarten Program and Head Start Program
37:53 – African American Heritage and Cultural Center Launch and Juneteenth
38:20 – Salute to Women in the Military: Her Past, Our Present
39:34 – Lewis n Clark Live
39:48 – 2nd Annual Juneteenth Celebration with Guest Speaker Eva M. Doyle
40:00 – Rockin' on the Rivers
40:22 – Great Trent River Raft Race
Tryon Palace Events:
42:03 – Behind the Scenes: Conservation Lab
42:27 – First Friday: The Importance of Tryon Palace Gardens Yesterday and Today
42:35 – Garden Lecture Series
42:42 – Behind the Scenes: Museum Technology
42:56 – Palace Pours: Painting at the Palace
43:26 – Discovering Tryon Palace: Outlander in the Governor's Palace and Outlander Home and Hearth
43:48 – North Carolina Symphony Performance
45:18 – Tryon Palace Celebrates National Pollinator Week
46:40 – Palace Contemporaries: Summer Solstice Garden Party
Night Tripping:
47:32 – Strung Together Performances
48:47 – Fun Found Around Town thru June 13
49:03 – NCMZ.live
50:45 – New Bern Music Calendar
Daytrippin'
51:21 – Promise Land Market
52:16 – Morehead City Marlins
54:07 – NC Aquarium at Pine Knoll Shores
55:42 – Events at Promise Land Market
57:07 – City of Morehead City Concerts
58:00 – New Bern Now's Magazine – Deadline for submissions June 15
58:44 – Charles Tendell Studio and New Bern Live
The Podcast also airs on New Bern's News Talk Radio Station WNOS 103.9FM every Wednesday at 8 a.m. and 5 p.m.
Let us know if you want to join us as a guest or have any questions, comments or suggestions by calling 252-259-6853 or sending us an email at info@newbernnow.com.
Thanks for joining us everyone and thanks for listening. Have a great day!
Wendy Card