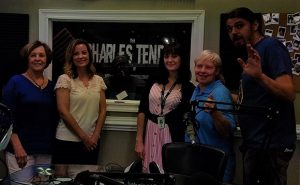 Episode 120
Connecting you with our community as we talk about the people, places, and the latest happenings in and around New Bern! During the show we talked about community news from locals; along with businesses and nonprofits! We also went Staytrippin', Daytrippin', and Night Trippin'!
During this show, New Bern Now's Podsquad: Colleen Roberts (City of New Bern), Susan Moffat-Thomas, Charles Tendell (New Bern Live), with Special Guest, Regina Ochoa (Tryon Palace and the North Carolina History Center) and I talked about the latest happening in our community on location in the Charles Tendell Studio located inside the O'Marks Bldg., 233 Middle Street Suite 107 in Downtown New Bern!
Special thanks to this episode's Sponsor, Sara's Big Apple Pizza, located at 1150 Broad Creek Rd., 252-636-2555.
Listen here:

Show Notes:
1:07 – Sara's Big Apple Pizza
2:35 – The Charles Tendell Studio and New Bern Live Celebrate One Year Anniversary
4:46 – Regina Ochoa joins us as a co-host
7:38 – Latest Happening at Tryon Palace
Summer Movie Series: Disney's Beauty & The Beast
National Pollinator Week
North Carolina Symphony
Lanterns on the Lawn
Christmastime at Tryon Palace
The Gardens
14:49 – Purple Passion Flower
16:25 – Groundbreaking Ceremony for Martin Marietta Park
21:57 – Please take Survey for the New Bern Civic Theatre
25:42 – Welcome Regina Ochoa to New Bern
26:23 – RiverTowne Players Summer Theatre Camp
27:49 – Social Media Minute
28:30 – Adopt a Pet from Colonial Capital Humane Society
Staytrippin'
30:27 – Rockin' on the Rivers
30:54 – The Great Trent River Raft Race
33:54 – Juneteenth presented by #ProjectRestore and various community co-facilitators in numerous locations throughout uptown and downtown New Bern.
35:24 – Crockett-Miller Slave Quarters
38:06 – Bear Towne Escape Room
38:31 – Y.U.P. Annual Rooftop Social (Celebration of Cultures)
38:42 – DuFFest
39:00 – "Wizard of OZ"
39:37 – Kaitlyn Bellydance
40:19 – At the Gallery: Season Finale performed by Ken Kennedy
40:31 – Juneteenth Community Fellowship Day with Live Music
40:49 – Community Listening Session
41:29 – 2019 Bridgeton Blueberry Festival
42:32 – Tastebud Adventure
49:00 – 8th Annual New Bern Run for the Warriors
49:07 – New Bern Colorfest
49:50 – Two Rivers Meet Concert with Lewis n Clark, Bryan Mayer and Shannan Grace
50:37 – Fourth of July Celebrations
52:10 – Night Tripping
Visit NCMZ.live and the New Bern Music Calendar Facebook page
Daytrippin'
53:12 – Pamlico County Croaker Festival
53:57 – Pacific Arts Festival
54:26 – Cliffs of the Neuse State Park
55:50 – Social Media Minute
Brewery 99, Brutopia, and Savi's Wine Shop
New Bern Riverfront Convention Center
Magnolia Jane Salon
Bear City Impact
First time listener from Michigan
59:52 – Charles Tendell Studio and New Bern Live
The Podcast also airs on New Bern's News Talk Radio Station WNOS 103.9FM every Wednesday at 8 a.m. and 5 p.m.
Let us know if you want to join us as a guest or have any questions, comments or suggestions by calling 252-259-6853 or sending us an email at info@newbernnow.com.
Thanks for joining us everyone and thanks for listening. Have a great day!
Wendy Card