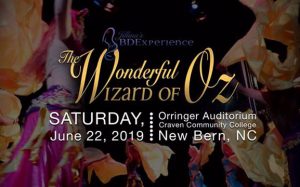 June 21st – 23rd
I am a professional dancer instructor and performer based in eastern NC. I am very excited to inform you that an International touring dance company is coming for the very first time to New Bern.
The company is called "Bellydance Evolution" and they are debuting a brand new show on the East Coast "Wizard of OZ" at Orringer Auditorium on June 22nd.
The entire weekend will be filled with performances, workshops and the gala show on Saturday.
This is a company that I have worked and toured with since 2014 and I have performed with them in places like Dallas, Boston, Seattle, NYC at the Lincoln Center and on a 2 1/2 month 35 date tour through China in 2016.
Nothing like this has ever come to ENC before.
The music is originally composed by the Company director's husband, Paul Dinliter, who is a co-owner of Audio machine who does music composition for the like of Major movies, Game of Thrones and commercials like Jeep and Nike.
For more information, visit Jillina's BDE Experience.
Submitted by: Kaitlyn Bellydance