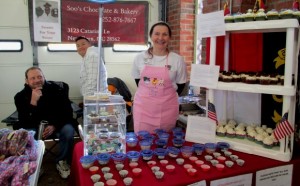 June 22, 2019 from 8 a.m. – 2 p.m.
The New Bern Farmers Market is holding a Cookies Around the World Day on Saturday, June 22 in honor of World Refugee Day.
Proceeds will benefit Interfaith Refugee Ministry and their mission of helping refugees rebuild their lives in eastern North Carolina.
When the doors open at 8 a.m. shoppers will have their choice of HUNDREDS of cookies donated by local restaurants, Market vendors and home bakers. For $10, each shopper gets a cardboard box and plastic glove and sets out to visit different Market vendors and pick a variety of cookies to fill their box.
For more information, call the New Bern Farmers Market at 252-633-0043.
Submitted by: Darian Dennis