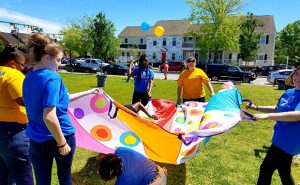 Register your children for Summer Camp before it's too late! There's a wide variety of camps in New Bern and surrounding areas,
If you grew up in the 70's or before, many of us would play outside for hours on end. Snow, rain, hot weather, nothing would stop us from finding something fun to do.
It's not because we lived in a perfect world. There were crimes against children and  plenty of dangerous things we could get into. The difference was, parents had less information as the Internet and 24-hour cable news didn't exist. Although we were always told to let our parents know where we were going, our neighbors were like family, and kept tabs on us.
We live in a different time. A lot of kids spend hours playing video games or are on their phones. It's still very important for them to experience the outdoors and interact with others. From arts, nature, sports, academic to general interest camps and more!
Here's a list of local Summer Camps:
– ATA Karate Summer Camp, 2518 Neuse Blvd., 636-5425
– Aviation Summer Flight Camp (Tradewind Aviation), 820 Aviation Dr., 636-0716 (Camp is full, but call to be added to wait list)
– Boys & Girls Clubs of The Coastal Plains, 844-440-2717 ext. 231
– Camp Albemarle, 156 Albemarle Dr., Newport, 726-4848
– Camp Sea Gull and Camp Sea Farer, 2744 Seafarer Rd., Arapahoe, 249-1212
– Craven Community College Camps, 638-0141
– Craven County Recreation and Parks, 406 Craven St. 636-6606
– Camp Don Lee, 315 Camp Don Lee Rd., Arapahoe, 249-1106
– Down East Dance, 2201 Trent Blvd., 633-9622
– Eastern North Carolina Elementary Engineering Camp, Havelock Tourist & Event Center (Eastern Carolina Aviation Heritage Foundation), 444-4348
– E.M.P.O.W.E.R. Summer Camp (Easter Seals UCP), 2801 Neuse Blvd., 636-6007
– Epiphany School of Global Studies, 2301 Trent Rd., 638-0122
– New Bern Gymnastics, 435 Garner Rd., 635-2100. Educational and instructional camps for: preschoolers (ages 3 – 5), full day camp (ages 5 – 12) (conditional, ninja, tumble, cheer camps ages 5 – 17)
– New Bern Parks and Recreation at West New Bern Recreation Center, 639-2910
– North Carolina Coastal Pines Girl Scouts, 800-284-4475
– Play Date, 1910 S. Glenburnie Rd., 633-5557
– Twin Rivers YMCA, 100 YMCA Ln., 638-8799 (Some camps are full, but call to be added to wait list)
– Wanda Kay School of Dance, 2117 S. Glenburnie Rd., 636-2811
– Youth Theatre Summer Workshop (New Bern Civic Theatre), 414 Pollock St., 634-9057
If you are aware of one that's not listed, please let us know and we'll add it.
Let us know if you have any questions, comments or suggestions by calling 252-259-6853 or sending us an email.
Wendy Card