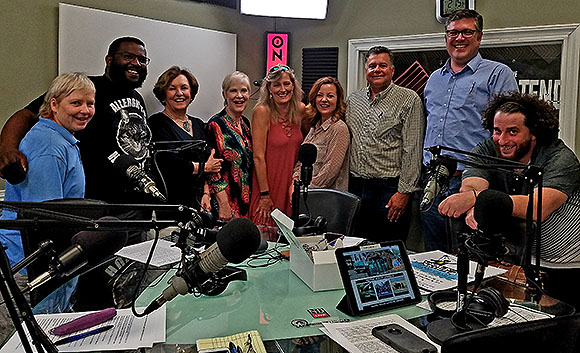 Episode 118
Learn about the people, places, and all the latest happenings in and around New Bern! During the show we talked about community news from locals; along with businesses and nonprofits! Join as we go Staytrippin', Daytrippin', and Night Trippin' to surrounding areas!
During this show, New Bern Now's Podsquad: Colleen Roberts (City of New Bern), Kathy Morrison (New Bern Historical Society), George Oliver (Law Offices of Oliver & Cheek), Tracey Stones (NCMZ.live), Susan Moffat-Thomas, Charles Tendell (New Bern Live), Eddie Kaplan, Rich Sheridan (Crystal Coast Discovery Map), and I talked about the latest happening in our community on location in the Charles Tendell Studio located inside the O'Marks Bldg., 233 Middle Street Suite 107 in Downtown New Bern!
We were joined by Special Guest Carol Williams of the Greater Duffyfield Residence Council.
Special thanks to this episode's Sponsors: Neuse Realty, 601 Broad Creek Rd. in New Bern, 252-633-4888 and Crystal Coast Lady Tours, 600 Front St., Beaufort, 252-728-8687.
Listen here:

Show notes:
1:21 – Neuse Realty
3:58 – Catching up with the Podsquad
6:13 – Mama Mia!
7:17 – Interview with Carol Williams about Duffest and Juneteenth
Staytrippin'
13:01 – Footloose on the Neuse – The Castaways
13:46 – Memorial Day Show on All About Craven
14:21 – Memorial Day Remembrance and Ceremonies
17:38 – New Bern Historical Society Updates
– Lindy Cummings presents the History of Barbour Boats
– Volunteer Appreciation and New Member Celebration
– Encore: Mark Sandvigen – "A Distant Mirror": Reflections on the Great War
22:22 –  Music of Nat King Cole by John Van Dyke
23:19 – North Carolina Symphony: Light Classics
23:44 – New Bern Aquatics Center and George Street Spray Ground
26:07 – Free Community Announcements on City 3 TV
30:16 – Rowland Bowen and The Home Sales Team
31:06 – The Beaufort Hotel and 34 Degrees North Restaurant
35:49 – Date Night Movies in the Park "The Proposal"
36:27 – CrossFit Burn hosts 2nd Annual Burnout Fundraiser
36:41 – River Bend Red Caboose Library Open House
37:01 – Riverside Players Present Free Concert
37:19 – Strung Together Live and Persimmons Restaurant
38:53 – Date Night Yoga for Beginners
39:24 – Strung Together Fundraising Performance
42:45 – Indoor Garage Sale
43:06 – 21st Annual Run for Shelter
43:21 – The Joe Baes Project Live
43:50 – Walk-In Bathtub Celebrates Worldwide Knit in Public Day
44:54 – Knit Happens Group
45:27 – Sweet Peas Café
48:16 – Salty Sheep Yarn Shop
46:38 – Events at Tryon Palace
46:37 – Night Tripping:
– Live Entertainment and Music, check out the North Carolina Music Zone
– Joanne and Bob Friedman's New Bern Music Calendar
49:06 – Daytrippin'
– Crystal Coast Lady Cruises
– Kayak for Warriors Kayak and Paddleboard Race
– Jaycee Park Summer Music Series
– Events at the NC Aquarium at Pine Knoll Shores
– North Carolina Black Bear Festival
– Crystal Coastal Discovery Map
53:35 – Social Media Minute
56:53 – New Bern Now's Magazine
57:48 – The Charles Tendell Studio and New Bern Live
Watch the Podsquad on New Bern Live's Facebook page and Youtube Channel.
Listen to our Podcast on NewBernNow.com, subscribe to our iTunes or Libsyn Channels, or tune into New Bern's News Talk Radio Station WNOS 103.9FM and 1450 every Wednesday at 8 a.m. and 5 p.m.
We also encourage you to listen to our New Bern Live partners as their shows also air on WNOS – The Charles Tendell Show and City Talk with Sabrina and Lee.
We'll be back on June 7!
Check out New Bern Live's Facebook page and YouTube channel between 1 – 2 p.m. The show will be published on NewBernNow.com and on our Libsyn and iTunes Channels.
Let us know if you'd like to join us as a guest on the Podcast or have any questions, comments or suggestions by calling 252-259-6853 or sending us an email.
Wendy Card