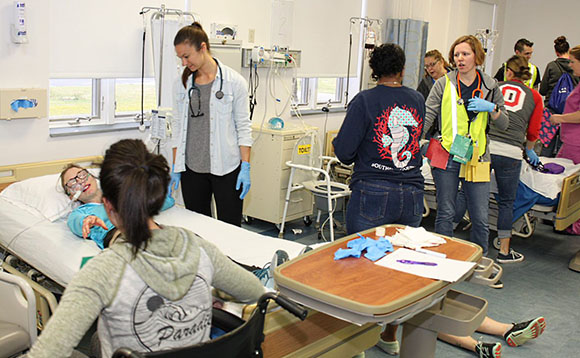 Craven Community College (Craven CC) will receive a $150,000 grant from CarolinaEast Medical Center (CEMC) in an effort to boost the region's nursing staff. The funds will be used to secure a new full-time nursing instructor to accommodate for an increase of nursing students on the college's New Bern campus.
The plan was introduced last year when Dr. Kathleen Gallman, chief academic officer and vice president for instruction at Craven CC, and Rosanne Leahy, CEMC senior vice president for nursing, met to discuss a need for more nurses and the feasibility of increasing the college's current nursing cohort.
"The hospital expressed a need for more registered nurses," said Gallman. "Rosanne stated that at any given time, CEMC has more than 20 nursing vacancies. She and I met on a couple of occasions to discuss ways in which the college could meet the hospital's needs and vice versa."
The college plans to increase its number of nursing graduates each year, as well as the faculty and clinical needs associated with that increase. Aligning with the hospital's desire to increase the number of baccalaureate nurses on staff, the college will focus efforts on educating Craven CC nursing students through the Regionally Increasing Baccalaureate Nurses (RIBN) initiative, opening more seats for traditional nursing students, as well as increasing the number of seats for transition students.
The Craven CC nursing program currently coordinates with CEMC to provide clinical training and hands-on learning for students each semester. The college projects a need for two more units at the hospital to accommodate the additional students.
Upon receiving the grant, Craven CC plans to increase the total cohort size to 64. One additional nursing faculty is required to maintain an average 8-to-1 student-to-faculty ratio in the clinical setting.
For more information about Craven CC's nursing programs, contact Jolie Huffman, admissions specialist for health programs, at 252-639-2025.
About Craven Community College
Founded in 1965, Craven Community College (Craven CC) is part of the North Carolina Community College System. With campuses in New Bern and Havelock-Cherry Point, Craven CC serves about 3,200 curriculum students and more than 10,000 continuing education students each year. The college offers a wide range of associate degree and certificate programs, as well as college transfer courses, career and occupational offerings, partnerships with four-year universities, specialized workforce training options, developmental studies and basic skills classes. The Lifetime Learning Center and Adult Enrichment Program offer lifelong learning opportunities. Craven Early College High School programs are available on both campuses. Craven CC is also home to Public Radio East, one of the few community colleges nationally with this distinction. For more information about the college, visit CravenCC.edu.
Submitted by: Craig Ramey, Director of Communications, Craven Community College