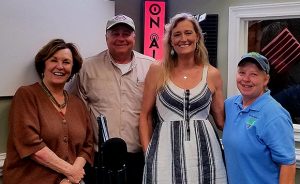 Episode 116
Today we talked about community news from locals; along with businesses and nonprofits! We also talked about the latest happenings in and around town and went Staytrippin', Daytrippin', and Night Trippin' to surrounding areas!
During this show, New Bern Now's Podsquad: Tracey Stones (NCMZ.live), Rich Sheridan (Crystal Coast Discovery Map), Susan Moffat-Thomas, Parker Millar, and I talked about the latest happening in our community on location in the Charles Tendell Studio located inside the O'Marks Bldg., 233 Middle Street Suite 107 in Downtown New Bern!
We were joined by Special Guests: Paul Schernitzki, The Litter Pirate, Susan Lucas and Marcy Riordan, New Bern Woman's Club.
Special thanks to this episode's Sponsors: Mary Davidson and The Four C's, 250 Middle St. in New Bern, 252-636-3285 and The Crystal Coast Lady Tours, 252-728-8687.
Listen here:

Show notes:
1:16 – The Four C's
3:38 – Community Fabric Awards
5:02 – Spring Break Week at the Crystal Coast
6:17 – Big Jim Koehler
6:34 – George Oliver
8:22 – Spring Wildlife Report
11:11 – Social Media Minute
Staytrippin'
12:28 – Craven County Spring Fair
15:28 – Tastebud Adventure
15:50 – Dank Burrito
17:11 – Lewis n Clark's Expedition: James Taylor and Carole King Benefit Concert for Rivertowne Players
18:13 – New Bern's Earth Day Celebration
19:34 – Curbside Recycling
21:44 – Saturday Sessions
22:23 – Paul Schernitzki, The Litter Pirate
32:07 – Interview with Susan Lucas and Marcy Riordan, New Bern Woman's Club and VIAL of Life Program
39:01 – Medieval and Renaissance Dance
39:50 – All Hands and Hearts – Smart Response Hurricane Florence Fundraiser
40:22 – At the Gallery: Willie Nelson performed by Blue Cactus
40:52 – Presentation by Lower Neuse Riverkeeper – Katy Langley
41:29 – Neuse River Senior Games and Silver Arts
42:02 – Exceptional Children's Event
43:02 – "A Musical Journey thru America"
43:20: 4th Annual Brews & Bites on the River
44:42 – Vanceboro Strawberry Festival and Parade
45:54 – Nelson's Blueberry Farm
45:18 – Garner Farms
45:38 – 3rd Annual Ride to Remember
46:22 – Pedego of New Bern
47:04 – Festival of Fun
47:34 – Ukulele Hoalohas Of Oriental – UHOO's
48:25 – Craven Ukes
49:38 – "A Musical Journey thru America"
48:56 – Southern Gentlemen Barbershoppers' 25th Annual Show
49:33 – Lunch and Learn: A Distant Mirror: Craven County and Reflections on the Great War 1917-1920 with Mark Sandvigen
50:37 – MOTHER LAND New Dances by Wendy Osserman and Danielle Madrid
51:23 – Tryon Palace Events
53:56 – Night Tripping:
For Live Entertainment and Music, check out the happenings visit the NC Music Zone at NCMZ.live.
We'd also like to give a shout out to Joanne Friedman as she started the New Bern Music Calendar Facebook page.
57:02 – Daytrippin'
– Crystal Coast Lady Tours
– May the Fourth be with You at the NC Aquarium
– 45th Beaufort Wooden Boat Show
– Promise Land Market combines Star Wars, Kentucky Derby, and Cinco de Mayo
– Beaufort Food and Wine Event
Thank you, Parker, Charles and New Bern Live!
The Podcast also airs on New Bern's News Talk Radio Station WNOS 103.9FM and 1450 every Wednesday at 8 a.m. and 5 p.m.
And of course, let us know if you'd like to join us as a guest on the Podcast or have any questions, comments or suggestions by calling 252-259-6853 or sending us an email at info@newbernnow.com.
Wendy Card