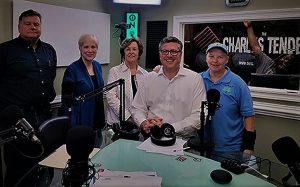 Episode 115
Today we talked about community news from locals; along with businesses and nonprofits! We also talked about the latest happenings in and around town and went Staytrippin', Daytrippin', and Night Trippin' to surrounding areas!
During this show, New Bern Now's Podsquad: Kathy Morrison (New Bern Historical Society), Rich Sheridan (Crystal Coast Discovery Map), Susan Moffat-Thomas, Charles Tendell, George Oliver (Oliver & Cheek, PLLC), and I talked about the latest happening in our community on location in the Charles Tendell Studio located inside the O'Marks Bldg., 233 Middle Street Suite 107 in Downtown New Bern!
We were joined by Special Guest: Bob Mackowski, Open Aperture Photography.
Special thanks to this episode's Sponsors: Steve and Jana Tyson – The Tyson Realty Group, 2301 Grace Ave in New Bern, 252-675-9595 and Hungry Town Tours, 400 Front St., Beaufort, 252-648-1001.
Listen here:
Show notes:
01:03 – Steve and Jana Tyson – The Tyson Realty Group
01:40 – George is back
2:55 – Catching up with the Podsquad and Google Home Mini
6:35 – Heritage Historic Homes Tour
11:33 – Guion Gallery Dedication at North Carolina History Center
12:29 – Evacuation from Ravensbruck
14:17 – New Bern Earth Day Celebration
17:06 – Bob Mackowski – Open Aperture Photography
24:50 – #Discovery Map
Staytrippin':
26:13 – ArtWalk – New Bern
26:31 – 2019 Bern Summer Blast
26:56 – Uncorked – A Wine Tasting, and Cravin' Wine, and Savi's Wine Shop
27:39 – Spring Heritage Plant Sale
28:12 – Juice on the Neuse
28:47 – London Suite by Neil Simon (performed by Walk-in Bathtub)
31:19 – Spring Garden Lovers' Weekend
31:32 – Carrie The Musical
32:12 – Yard Sale benefiting Craven County Charities
32:30 – Coastal Photo Club's Spring Major Competition
32:40 – Eastern Carolina Pottery Festival
33:02 – Easter Egg Hunt
34:06 – Totally Egg-cellent Eggstravaganza
34:32 – Annual BBQ Pork and Chicken Fundraiser
35:04 – Saturday Sessions
35:49 – Great Glow Run 5K Run/Walk
36:10 – Behind the Scenes: Costume Shop
36:18 – Join the Coastal Women's Forum for Lunch with Speaker Lilibeth Serrano Vélez – US Fish and Wildllife Service
36:46 – 9th Annual Community Fabric Awards
38:25 – Twi-Light Easter Egg Hunt
39:48 – EPIC 5K & 1 Mile Walk for Life
40:13 – Coast Guard Auxiliary Safe Boating Class
40:34 – Easter Egg Drop
41:56 – Horticultural Workshop, Garden Tour and Plant Sale
42:23 – Discovering Tryon Palace: Outlander in the Governor's Palace and Outlander Home and Hearth
43:42 – Saturday Sessions
48:36 – Earth Day After Party
44:24 – Behind the Scenes: Costume Shop
44:42 – Denim & Diamonds Ladies Night Out Soiree
44:58 – Craven County Fair at the Craven County Fairgrounds
45:40 – Lewis n Clark's Expedition: James Taylor and Carole King Benefit Concert for Rivertowne Players
45:55 – Special Events with Diana Gabaldon, Bestselling Author of "Outlander"
46:57 – Brock's Mill Pond Spring Party
47:22 – Pollock Street Pub – Weiner Haus
Night Tripping:
48:24 – Give back to Tracey Stones efforts – North Carolina Music Zone (NCMZ.live)
49:56 – New Bern Music Calendar
50:17 – Hungry Town Tours
Daytrippin':
51:49 – Dank Burrito
53:32 – NC Pickle Festival
54:43 – Promise Land Market
55.23 – Old Beaufort Farmers' Market
56:22 – Party for The Planet
57.17 – New Bern Now's Ledger Magazine
58:21 – Charles Tendell and New Bern Live
Watch the Podsquad on New Bern Live's Facebook page and Youtube Channel.
Listen to our Podcast on NewBernNow.com, subscribe to our iTunes or Libsyn Channels, or tune into New Bern's News Talk Radio Station WNOS 103.9FM and 1450 every Wednesday at 8 a.m. and 5 p.m.
We also encourage you to listen to our New Bern Live partners as their shows also air on WNOS – The Charles Tendell Show and City Talk with Sabrina and Lee.
We'll be back on April 25!
Check out New Bern Live's Facebook page and YouTube channel between 1 – 2 p.m. The show will be published on NewBernNow.com and on our Libsyn and iTunes Channels.
Let us know if you'd like to join us as a guest on the Podcast or have any questions, comments or suggestions by calling 252-259-6853 or sending us an email.
Wendy Card