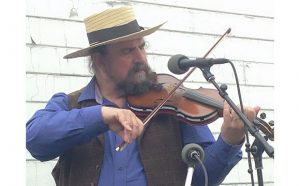 Simon Spalding performs at City Stage New Bern on Thursday, March 21!  Simon combines songs, tunes, and storytelling to weave an intricate tapestry of exploration, adventure, and far-off lands and seas.
The songs include singalong sea chanteys, Ragtime, ballads by Rudyard Kipling and Stephen Foster; and tunes from far-flung corners of the globe.  Simon will perform translations of songs from Turkey and Russia, as well as his new original song, "Casey and the Bear"!
The instruments include the familiar (violin, ukulele), and the exotic (Chinese erhu, Swedish nyckelharpa, and Irish octave mandolin).
The City Stage is at 901 B Pollock Street in downtown New Bern.  A variety of food and drink available for purchase.  The music will start 7:00, and will finish up at 9:00.  There is no admission charge; a $1.00 membership fee is due the first time one visits.  Call 252-631-5122 for more information.  Reservations are available at CityStageNewBern.com.
For more on the artist, check out MusicalHistorian.com.
Submitted by: Simon Spalding