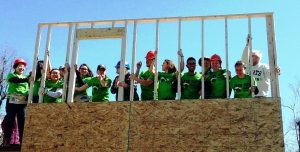 HABITAT FOR HUMANITY OF CRAVEN COUNTY
Habitat Craven County To Host Student Volunteers For Alternative Spring Break
WHO                   
March 4-9 – Sacred Heart University (CT) with 15 students
March 11-16 –    Lycoming College (PA) with 18 students
University of Rochester (NY) with 7 students
March 25-30 – St. Mary's Catholic High School (MI) with 34 students & adult chaperones
WHAT  
Collegiate Challenge is Habitat for Humanity's year-round alternative break program, founded in 1989
WHEN
Monday through Thursday, from 8:00 am to 3:00 pm each of the three weeks
WHERE
March 4-7 – Habitat home #68 at 876 Howard Street, New Bern
March 11-14 – Habitat home #67 at 1022 North Bern Street and #68 at 876 Howard Street
March 25-28 – Habitat home #67 at 1022 North Bern Street and #68 at 876 Howard Street
WHY                 
To provide opportunities for students from colleges, high schools and youth groups to spend a week volunteering in partnership with a Habitat for Humanity affiliate in the US. Additionally, the program is designed to empower communities and create environments where exchange and interaction between student groups and community residents can take place to share concerns about ending substandard housing.
HOW                 
Coordinated by Habitat for Humanity of Craven County with the generous support and hospitality of our New Bern community. Overnight accommodations are being provided by area churches and meals are generally hosted by individuals, churches, or civic organizations.
Habitat for Humanity of Craven County is celebrating its 30th year as an affiliate of Habitat for Humanity International, a non-profit Christian housing ministry. Since 1989, the local organization has built 66 homes in partnership with homeowners who are deemed eligible by the Selection Committee, impacting 105 adults and over 120 children.
When each home is completed, the homeowner is responsible to pay a no-interest mortgage and other expenses associated with owning their own home. To date, the mortgages on 16 homes (25%) have been fully paid off.  Habitat does not give away houses but does make it possible for deserving families to realize strength, stability, and self-sufficiency through homeownership.
For additional information about Habitat Craven County, contact the Deedra Durocher, Volunteer Coordinator at 252-633-9599, 252-670-1907 or send her an email.
Submitted by: Deedra Durocher, Habitat for Humanity of Craven County
Published by Tracey Stones