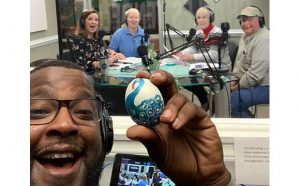 Episode 113
Find out the latest "positive" news and information about our beautiful and happening town of New Bern and Beyond. Beyond, meaning our travels throughout Eastern North Carolina! Today we talked about community news from locals; along with businesses and nonprofits! We also talked about the latest happenings in and around town and went Staytrippin', Daytrippin', and Night Trippin' to surrounding areas!
During this show, New Bern Now's Podsquad: Colleen Roberts (City of New Bern), Kathy Morrison (New Bern Historical Society), Rich Sheridan (Crystal Coast Discovery Map), Charles Tendell, and I talked about the latest happening in our community on location in the Charles Tendell Studio located inside the O'Marks Bldg., 233 Middle Street Suite 107 in Downtown New Bern!
We were joined by Special Guests: Tom Braaten and Bill Burney
Special thanks to Bespoke Custom Florals for sponsoring this podcast episode! Visit them at 244-A Craven St. or call 252-514-2885.
Listen here:

Show notes:
1:14 – Bespoke Custom Florals
2:20 – Catching up with the Podsquad
3:25 – NC DOT Hwy 70 Highlights and Updates
5:34 – Charles is going Sailing
5:58 – City of New Bern Updates from Colleen: Funeral of Fire Chief Adam Snyder and the City Hall Clock Tower Restoration
8:20 – Interview with Major General Tom Braaten, Ret USMC: Military Family of the Quarter; New Bern Area Chamber Military Alliance and events; Eastern Carolina Aviation Heritage Foundation (ECAHF) Fly-In; STEM Camp and Gala; CCDRA Hurricane Florence Recovery Efforts and Congratulations to Steve Tyson
17::20 – Fire Truck Pull with the New Bern Fire/Rescue
20:51 – Interview with Bill Furney, Author of Aphrodite's Whisper and Black Hearts/Black Bones
29:10 – Next Chapter Book Store
30:14 – New Bern Historical Society Updates from Kathy: Battlefield Adventure Day; Historic Homes Tour; and Park Day
Staytrippin'
35:52 – Sham-Rockin' St. Patrick's Celebration
36:52 – Spring Big Book Sale
47:45 – Alladin – JR
38:06 – Hairspray, Fri – Sat: 7:30 p.m.; Sun: 3:00 p.m. at the Masonic Theatre. Presented by RiverTowne Players. Call 252-633-3318.
39:07 – At the Gallery: Carter & Cash performed by Strung Together
39:39 – Coastal Women's Forum Features Sandra Phelps – United Way
39:57 – North Carolina Symphony – From Classical to Broadway
40:19 – Coastal Sole
41:26 – Neuse River Bridge Run
41:37 – Arbor Day Celebration
42:09 – Earth Day Celebration
43:10 – Craven Works Job Fair
43:58 – 8th Annual Reach for the Stars Gala
44:52 – 25h: Kindergarten: Ready, Set, Go Information Session
45:13 – Explorations in The Arts: Pas de Deux – Carolina Ballet
45:35 – 5th Annual Fallen Officer Memorial Ride
46:25 – Inclusive Easter Egg Hunt
48:50 – Carnival of Colors
49:15 – Tryon Palace:
– Discovering Tryon Palace: Outlander in the Governor's Palac and Home and Hearth
– African American Lecture Series: "Red, Hot, and Blue Soul Radio
– African American Heritage Tour
59:58 – Night Tripping:
– Live Entertainment and Music, check out the happenings visit the NC Music Zone at NCMZ.live.
– Check out Joanne Friedman;s New Bern Music Calendar Facebook page.
50:35 – Daytrippin' to the Crystal Coast
– Emerald Isle St. Patrick's Celebration
– Beaufort featured in Southern Living Magazine
– Burn Your Socks on the Equinox
57:21 – Downtown Shamrock Hunt
59:05 – The Charles Tendell Show and New Bern Live
Watch the Podsquad on New Bern Live's Facebook page and Youtube Channel.
Listen to our Podcast on NewBernNow.com, subscribe to our iTunes or Libsyn Channels, or tune into New Bern's News Talk Radio Station WNOS 103.9FM and 1450 every Wednesday at 8 a.m. and 5 p.m.
We also encourage you to listen to our New Bern Live partners as their shows also air on WNOS – The Charles Tendell Show and City Talk with Sabrina and Lee.
We'll be back on March 28, 2019! Tune into New Bern Live's Facebook page and YouTube channel between 1 – 2 p.m. The show will be published on NewBernNow.com and on our Libsyn and iTunes Channels.
Let us know if you'd like to join us as a guest on the Podcast or have any questions, comments or suggestions by calling 252-259-6853 or sending us an email.
Wendy Card