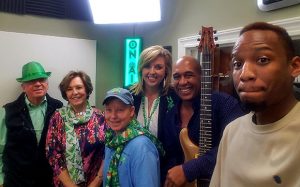 Episode 112
Find out the latest "positive" news and information about our beautiful and happening town of New Bern and Beyond. Beyond, meaning our travels throughout Eastern North Carolina! Today we talked about community news from locals; along with businesses and nonprofits! We also talked about the latest happenings in and around town and went Staytrippin', Daytrippin', and Night Trippin' to surrounding areas!
During this show, New Bern Now's Podsquad: Susan Moffat-Thomas, Kathy Morrison (New Bern Historical Society), Rich Sheridan (Crystal Coast Discovery Map), Tracey Stones (NCMZ.live), Charles Tendell, Parker Miller, and I talked about the latest happening in our community on location in the Charles Tendell Studio located inside the O'Marks Bldg., 233 Middle Street Suite 107 in Downtown New Bern!
We were joined by Special Guests: Brittany Spear, Adrian Watts, TC Cooper, Jon Miller, David Cartier, Mindy Moore, and Matt Knight.
Special thanks to The Law Offices of Oliver & Cheek for sponsoring this episode!
Listen here:

0:55 – George Oliver and Clayton Cheek – The Law Offices of Oliver & Cheek
2:48 – Brittany Spear (New Bern Rotary Club – Sham-Rockin' 2019 St. Patrick's Celebration)
5:50 – Adrian Watts and TC Cooper of Trainwreck
12:34 – Jon Miller, Board Member and Volunteer with the New Bern Historical Society talks about the Battlefield Adventure Day and the New Bern Battlefield Park.
23:01 – David Cartier with the new Beaufort Hotel and 34 Degrees North Restaurant (managed by Concord Hospitality), Hotel Job Fair and Hungry Town Tours
30:14 – Caller – Mindy Moore, Pamlico Community College Small Business Center talks about Upcoming Seminars
33:54 – Matt Knight, with NC Alcohol Law Enforcement talks about Stop The Cravin' Symposium about Substance Abuse issues in our region
Staytrippin':
39:25 – March for Sickle Cell Walk/Run, 9:00 a.m. – 11:00 a.m. at Union Point Park. Presented by Neuse Pamlico Sound Women's Coalition, Inc.
39:45 – 14th Annual Chili Cookoff, 11:00 a.m. – 2:00 p.m. at Harley-Davidson of New Bern. Call 252-633-4060.
39:59 – New Bern Mardi Gras, 11:00 a.m. – 6:00 p.m. (Parade starts at 3 p.m.) in the Historic Ghent Neighborhood on Spencer Ave. Call 252-634-7937.
40:17 – Improv with Walk-In Bathtub, 7:30 p.m. at the New Bern Civic Theatre. Call 252-634-9057.
40:32 – Carolina Coastal Railroaders Train Show
40:49 – Neuse River Ramblers Live
41:13 – Free Showing of "Legalize Equality"
41:27 – Coastal Women's Forum TRADEshare
41:34 – Poetry Open Mic Night with featured Poet Gideon Young
41:52 – ArtWalk – New Bern
42:29 – Uncorked – A Wine Tasting
42:53 – Hairspray
43:15 – Revitalize New Bern Creative Call Public Art Initiative – Workshop Series,
43:56 – Attic-Basement-Closet (ABC) Indoor Yard Sale
44:08 – Panther Prowl 5K and Panther Pounce Fun Run/Walk
44:31 – Garden Lecture Series "Heirloom Vegetables for ENC & Spring Trade Specials"
44:47 – Free Music Concert
45:26 – Benefit for Janet Montero with Live Music
46:01 – New Bern CROP Hunger Walk honors the late Greg Smith
46:23 – 16th Annual Taste of Coastal Carolina
47:02 – Lunch and Learn: North Carolina First to Stand up to King George the III
47:25 – Spring Big Book Sale
47:51 – Alladin – JR,
48:08 – At the Gallery: Carter & Cash performed by Strung Together
48:52 – Tryon Palace:
– First Friday: Evolution of Women's Clothing
– Performance Arts Series presents: The Hunts In Concert
– Behind the Scenes: Costume Shop
– Hamiltunes: An American Singalong
– Tryon Palace's 60th Anniversary Celebration
51:51 – Night Tripping:
– For Live Entertainment and Music, check out the happenings visit the NC Music Zone at NCMZ.live.
– We'd also like to give a shout out to Joanne and Bob Friedman as she started the New Bern Music Calendar Facebook page.
52:19 – Daytrippin'
– Coastal Carolina Regional Airport (EWN)
– Get Hooked Fishing School Seminar at the NC Aquarium at Pine Knoll Shores
– Celestial Navigation along the Graveyard of the Atlantic at the NC Maritime Museum
57:35 – #Learning in New Bern Now
59:04 – The Charles Tendell Show and New Bern Live
Watch the Podsquad on New Bern Live's Facebook page and Youtube Channel.
Listen to our Podcast on NewBernNow.com, subscribe to our iTunes or Libsyn Channels, or tune into New Bern's News Talk Radio Station WNOS 103.9FM and 1450 every Wednesday at 8 a.m. and 5 p.m.
We also encourage you to listen to our New Bern Live partners as their shows also air on WNOS – The Charles Tendell Show and City Talk with Sabrina and Lee.
We'll be back on March 14, 2019! Tune into New Bern Live's Facebook page and YouTube channel between 1 – 2 p.m. The show will be published on NewBernNow.com and on our Libsyn and iTunes Channels.
Let us know if you'd like to join us as a guest on the Podcast or have any questions, comments or suggestions by calling 252-259-6853 or sending us an email at info@newbernnow.com.
Wendy Card