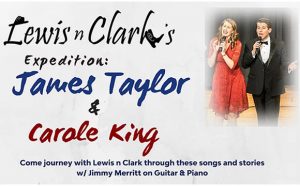 "Tickets are going fast for our next concert benefiting an excellent non-profit in just three days since our announcement we have sold close to 100 tickets."
So get your tickets today Lewis n Clark's Expedition: James Taylor and Carole King on April 26th at Rivertowne Players Theatre! This  show featuring the music and stories of James Taylor and Carole King will benefit the non-profit community theatre and their arts programs for youth and community.
The original performance of this show was postponed due to Hurricane Florence and the duo is excited to finally bring it back to their audience.
The show will be April 26th at 7:30 p.m. and performed in cooperation with RiverTowne Players in the Masonic Theatre at 514 Hancock Street, New Bern, NC.
Seating is by reserved tickets and can be found at http://bit.ly/JTCK_LnC_Tix.
This is a make-up performance with audience members still holding on to tickets. For those ticket holders, Lewis n Clark is happy to exchange the original ticket for a ticket to the newly scheduled performance.
If you have an original ticket please email Lewis n Clark Productions to find out how to exchange your ticket in advance.
Tickets are limited, so please reach out as soon as you can."
Submitted by: Von Lewis