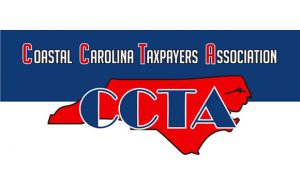 The Coastal Carolina Taxpayers Association (CCTA) has invited all 26 candidates in the race for US Congress NC 3rd District to speak at a Candidate Forum this Friday March 22 in New Bern. At the time of this article, 12 candidates from four different political parties have accepted the invitation to speak and two others have replied that they may be able to attend. CCTA expects more response from candidates before Friday.
The forum will be conducted in Orringer Hall Auditorium on the campus of Craven Community College and will begin at 6 PM. The event is free and open to the public.
CCTA is also holding their regular monthly meeting today (March 19) featuring Meloni Wray, Director of Elections for Crave County. Mrs. Wray will talk about details of the Special Election being held for U.S. House of Representatives – an office that was held for more than 20 years by the late Walter B. Jones, Jr.
As is the case with all CCTA programs, the public is invited to participate in a question and answer period immediately following the panel presentation.
The CCTA public meeting will begin at 7 PM in the Stanley Hall Ballroom at 305 Pollock Street, downtown New Bern. There is no admission charge. Doors open and refreshments are served thirty minutes prior to the program. Everyone is invited to join in the social activities that take place before the meeting is called to order.
There are two entrances to Stanly Hall. For easy access there is an elevator entrance is located at 249 Craven Street. The stairway entrance is located at 305 Pollock Street. Directly across the street from City Hall.
Coastal Carolina Taxpayers Association is a 501-C3 nonprofit, non-partisan organization dedicated to lower taxes, smaller government, individual liberties and protection of the US Constitution and the free enterprise system. Membership in CCTA is open to everyone.
For more information, contact Rick Hopkins – Program Chairman of CCTA at 252-649-0525.
Article written and distributed by Bill Poole, Publicity Chairman for CCTA