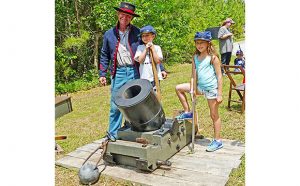 The popular Harry Goodman Battlefield Adventure Day for families is Saturday, March 23, 2019 at the New Bern Battlefield Park.  A day full of learning activities, period games and living history, it is held annually at the Park, which has been extensively upgraded by the New Bern Historical Society. This year the event is open to guests of all ages, with special activities for children 6-12 years old.  Check-in begins at 11:30 a.m. with activities from 12:00 noon to 4:00pm.
Guests will be greeted by re-enactors from the 5th and 7th North Carolina Regiments. The event kicks off with a commissary lunch for all guests, provided by Moore's Bar-B-Que.  There will be Civil War era games, crafts, and hands-on displays for the entire family. Children will participate in practice drills and Civil War period activities and crafts.  Historical Society battlefield guides will provide an informative and entertaining walking tour of the battlefield.  The day's activities will conclude with an exciting artillery live fire demonstration by McCullough Living History.
Cost is $10 for the first family member, plus $5 for each additional adult or child, with a $20 maximum for a family. Special price for active duty military and families qualifying for free/reduced school lunch program. For more information or to register: New Bern Historical Society – 252-638-8558 and NewBernHistorical.org.
At the end of the day we'll take part in the American Battlefield Trust's Park Day, an opportunity for the public to lend a hand at battlefields and parks across the country.  Participants will help rake out the redans.  Park Day will begin after the Adventure Day activities are complete at 4pm.  T-shirts will be given to the first 45 participants. So, come out for the Adventure then lend a hand at Park Day!
New Bern Battlefield Park is located off Hwy 70 at the entrance to the Taberna subdivision at 300 Battlefield Trail.
This program is supported through the generosity of the family of Harry K. Goodman, who was key to the preservation and restoration of the Battlefield Park.
Submitted by: Kathy Morrison, Public Relations, New Bern Historical Society