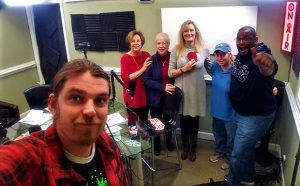 Episode 111
Find out the latest "positive" news and information about our beautiful and happening town of New Bern and Beyond. Beyond, meaning our travels throughout Eastern North Carolina! Today we talked about community news from locals; along with businesses and nonprofits! We also talked about the latest happenings in and around town and went Staytrippin', Daytrippin', and Night Trippin' to surrounding areas!
During this show, New Bern Now's Podsquad: Susan Moffat-Thomas, Kathy Morrison (New Bern Historical Society),Tracey Stones (NCMZ.live), Charles Tendell, Parker Miller, and I talked about the latest happening in our community on location in the Charles Tendell Studio located inside the O'Marks Bldg., 233 Middle Street Suite 107 in Downtown New Bern!
We were joined by Special Guests: Lovay Singleton, Linda Staunch, and Barb Krcmar.
Special thanks to The Rotary Club of New Bern for sponsoring this episode!
Listen here:

01:30 – 4th Annual Sham-Rockin' 2019 – St. Patrick's Celebration
1:38 – Catching up with The Podsquad
4:21 – Jane Knowles presentation on Army Nurses in the Vietnam War
6:15 – Shakespeare Fundraising Dinner
7:31 – Lovay Singleton, Executive Director, Veterans Employment Base Camp and Organic Garden and 5th Annual Craven County Veterans Standdown
15:05 – Live Caller: Prank call from George Oliver (Oliver & Cheek)
17:50 – Angela Thorpe presentation of The Green Book
20:27 – Attic-Basement Closet (ABC) Sale
22:25 – Support New Bern Now's efforts
23:52 – Barb Krcmar, the new Executive Director of the MERCI Clinic and Neuse River Bridge Run
26:52 – Brad Kimrey: SUP and Running
30:56 – Linda Staunch, New Bern Preservation Foundation and New Bern Antique Show and Sale
30:34 – Social Media Minute:
– Cyndi Papia: Mardi Gras Parade and Festival
32:22 – Alisa Mike Live
36:52 – Social Media Minute (Continued):
– Bethany Pedaling Richards: Pedaling for Parkinsons with the Bike Box Project
– Recognizing people watching us on Facebook Live
39:25 – The Great Backyard Bird Count
41:10 – Jennifer Baer: Nominations for the 2019 Community Fabric Awards
Staytrippin':
42:25 – Explorations in The Arts: The Poetry of Jazz – Willie E. Atkinson & The Transitional Jazz Quintet
43:12 – Psylo Joe Live
43:33 – Social Media Minute (Continued):
– Jeanne Julian: Carteret Writers Writing Contest
– Dona Baker: Masterful Dog Training
44:32 – Tryon Civitan Club's Food Drive to benefit the Salvation Army
45:16 – Miss Evers' Boys
45:46 – "Pruning Trees and Shrubs" – Tools and Techniques with Outdoor Demonstration
46:10 – Adult Enrichment Program
47:19 – Black History Month Parade
48:22 – Big Jim Blues and Tracey Stones 50th Birthday Bash
49:55 – 4th Annual Indoor Triathlon
50:10 – 9th Annual Great Oyster Revival & Chili Cookoff
50:44 – Blaze of Glory Mortgage Burning
51:47 – Empty Bowls 2019
52:24 – For Live Entertainment and Music, check out the happenings visit the NC Music Zone at NCMZ.live. We'd also like to give a shout out to Joanne Friedman as she started the New Bern Music Calendar Facebook page.
52:58 – Tryon Palace
– Discovering Tryon Palace: Outlander in the Governor's Palace and Outlander Home and Hearth
– Behind the Scenes: Costume Shop
– African American Lecture Series: "Music of Black Migrationers
– Behind the Scenes: Conservation Lab
54:22 – Night Trippin':
– At the Gallery: Holland Dozier Holland performed by Minus2
55:40 – Daytrippin'
– 243rd Anniversary of Moores Creek Bridge Reenactment and Demonstrations
– The Coastal Home & Garden Show
– ECU Voyages of Discovery Lecture with Clinton Van Zandt "Physchological Profiling: Solving Famous Unsolved Cases"
58:18 – The Charles Tendell Show and New Bern Live
Watch the Podsquad on New Bern Live's Facebook page and Youtube Channel.
Listen to our Podcast on NewBernNow.com, subscribe to our iTunes or Libsyn Channels, or tune into New Bern's News Talk Radio Station WNOS 103.9FM and 1450 every Wednesday at 8 a.m. and 5 p.m.
We also encourage you to listen to our New Bern Live partners as their shows also air on WNOS – The Charles Tendell Show, City Talk with Sabrina and Lee, and Men On Radio Offering Non-sensical Solutions (M.O.R.O.N.S).
We'll be back on February 28, 2019! Tune into New Bern Live's Facebook page and YouTube channel between 1 – 2 p.m. The show will be published on NewBernNow.com and on our Libsyn and iTunes Channels.
Let us know if you'd like to join us as a guest on the Podcast or have any questions, comments or suggestions by calling 252-259-6853 or sending us an email at info@newbernnow.com.
Wendy Card