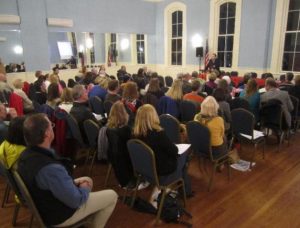 January 15, 2019 in New Bern
According to a report from North Carolina Department of Health and Human Services, more than 12,000 North Carolinians died from opioid-related overdoses in the period from 1999 to 2016.  However, those numbers have shown a dramatic increase in recent years.
Statistics released in May 2017 showed that there were more than 1100 Opioid related deaths in the state during 2015, a 73 percent increase over ten years.  That report from North Carolina Governor Roy Cooper's office provided county by county numbers.  It documented 15 Opioid related deaths in Carteret County, 22 in Craven County and 4 in Pamlico County during 2015.
In response to the continuing problems related to Opioid addiction and drug availability in Eastern North Carolina, a public forum is being hosted by Coastal Carolina Taxpayers Association.  This public meeting is Tuesday January 15TH at 7 PM in Stanly Hall Ballroom, 305 Pollock Street, downtown New Bern.
The panel will include Sheriff Asa Buck – Carteret County, Sheriff Chip Hughes – Craven County and Sheriff Chris Davis – Pamlico County, as well as District Attorney – Scott Thomas.
Also attending will be representatives of Third Street Business & Workforce Development which serves as a bridge to gainful employment for recovering addicts who are typically difficult to employ.   Third Street is a ministry based in Greenville, NC that helps recovering addicts restore their lives and become productive citizens through mentorship and job skills training.
This epidemic is devastating families and communities in eastern North Carolina to such an extent, that nearly everyone knows of a fatality.
The program is designed to inform the public about new law enforcement initiatives for addressing the crisis as well as provide information about services available in our community for dealing with addiction.
Persons with experience in a successful rehab program as well as anyone with ideas for improving treatment and rehabilitation for addicts are encouraged to participate.  Of course people who are simply looking for answers are also most welcome to attend.
The event is free and open to the public as a service of Coastal Carolina Taxpayers Association (CCTA).  It's the hope of CCTA that you will choose to attend and participate in this Opioid Crisis Forum.
Doors open to the public at 6:30 for refreshments and casual conversation.  The program will begin at 7 PM.
Coastal Carolina Taxpayers Association is a 501-(c)3 nonprofit, non-partisan organization dedicated to lower taxes, smaller government, individual liberties and protection of the US Constitution and the free enterprise system.  Membership in CCTA is open to everyone.
The event will be held in the Stanley Hall Ballroom at 305 Pollock Street, downtown New Bern.  Note, for easy access there is also an elevator entrance at 249 Craven Street.  Refreshments and educational displays are available 30 minutes before the meeting.
For more information, contact Rick Hopkins – Program Chairman of CCTA.  Rick's contact information is as follows: rick@1791.com or (252) 649-0525.
Article written and Submitted by: Bill Poole, Publicity Chairman for CCTA bill@ibxmedia (252) 671-3252.