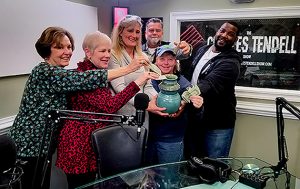 Episode 109 – First Live Video Show
Find out the latest "positive" news and information about our beautiful and happening town of New Bern and Beyond. Beyond, meaning our travels throughout Eastern North Carolina!
During this show, New Bern Now's Podsquad: Susan Moffat-Thomas, Kathy Morrison (New Bern Historical Society), Charles Tendell (Charles Tendell Show), Rich Sheridan (Crystal Coast Discovery Map),Tracey Stones (NCMZ.live) and I talked about the latest happening in our community on location in the Charles Tendell Studio located inside the O'Marks Bldg., 233 Middle Street Suite 107 in Downtown New Bern!
Special thanks to this Podcast episode's Co-Sponsors:
– New Bern Mardi Gras, 252-634-7937
– Steve and Jana Tyson, The Tyson Realty Group, 2301 Grace Ave., 252-675-9595.
Listen here:

Show notes:
1:03 – New Bern Mardi Gras in the Historic Ghent Neighborhood
2:15 – New Bern Historical Society
– The Story of Ghent, Encore with John Leys
– Green Book Lunch and Learn with Angela Thorpe
– Nominate New Bern High School Seniors for the Harriet Marks Scholarship
6:14 – Nurses in Vietnam "The Rest of the Story"
8:47 – Welcome Contributing Author Lovay Wallace Singleton to New Bern Now's Team
11:32 – The Avett Brothers
14:32 – Craven Ukes
15:40 – Tracey Stones is New Bern Now's Marketing Director
17:51 – Fundraiser for new microphones in the Charles Tendell Studio and New Bern Live
19:15 – Tracey's Birthday Wish List for the Peace Counseling Center
22:19 – Craven County Disaster Recovery Alliance
22:30 – The Tiny Tornado
24:09 – Potter Eddie Kaplan makes a difference
25:40 – Charlie Brown at the New Bern Civic Theatre.
26:05 – The Diary of Anne Frank by RiverTowne Players
26:33 – USCG Auxiliary Boating Basics Course
26:43 – 12th Annual Local Authors Luncheon by The Twin Rivers Branch of the American Association of University Women (AAUW)
27:26 – Revitalize New Bern: A Creative Call
27:43 – Freedom Ball Fundraising Gala benefiting True Justice International
28:13 – At the Gallery: Randy Newman performed by Heather Pierson Trio
29:42 – Point-in-Time Count
30:32 – WinterFeast: Oysters, Brews, and Comfort Foods
30:49 – Discovering Tryon Palace: Outlander in the Governor's Palace and Discovering Tryon Palace: Outlander Home and Hearth
31:20 – Behind the Scenes: Conservation Lab
31:44 – Story of BBQ in North Carolina Exhibit
32:46 – Interview with Ted Peterson, Wit Clothier and the Historic Stanly House (Featured in the upcoming Our State Magazine)
38:26 – Night trippin'
– Simon Spalding and Tuppence at The City Stage
– Tommy Duzan Sr. at The Bruin Craft Beer & Wine
– Ryan Rubich at The Brown Pelican
– Ed Prophet living the dream at BrÜtopia
– Oriental's beloved Saltwater Gold at Blackbeard's Triple Play
40:29 – For the full music line-up visit NCMC.live and Joann and Bob Friedman's New Bern Music Calendar
41:38 – Steve and Jana Tyson – The Tyson Realty Group
42:47 – YMCA 4th Annual Indoor Triathlon
43:27 – Daytrippin'
– Businesses in the Crystal Coast
– Musket Firing at Ft Macon
– Poe Fest: 4th Annual Edgar Allen Poe Tribute
– Winter Wine Dinner at Caribsea
– Saltwater "Get Hooked" Fishing School – NC Aquarium at Pine Knoll Shores
– Swansboro Community, Businesses, and Super Moon Cruise
– Morehead City Annual Chocolate Festival
53:05 – Dinner on 5 Continents
54:21 – Nominate your Neighbor for the NC Governor's Service Award
55:57 – Make A Wish Foundation for Eastern North Carolina
58:50 – The Charles Tendell Show and New Bern Live
Listen to our Podcast on NewBernNow.com, subscribe to our iTunes or Libsyn Channels, or tune into New Bern's News Talk Radio Station WNOS 103.9FM and 1450 every Wednesday at 8 a.m. and 5 p.m.
We also encourage you to listen to our New Bern Live partners as their shows also air on WNOS – The Charles Tendell Show, City Talk with Sabrina and Lee, and Men On Radio Offering Non-sensical Solutions (M.O.R.O.N.S).
We'll be back on January 31, 2019! Tune into New Bern Live's Facebook page and YouTube channel between 1 – 2 p.m. The show will be published on NewBernNow.com and on our Libsyn and iTunes Channels.
Let us know if you'd like to join us as a guest on the Podcast or have any questions, comments or suggestions by calling 252-259-6853 or sending us an email at info@newbernnow.com.
Wendy Card