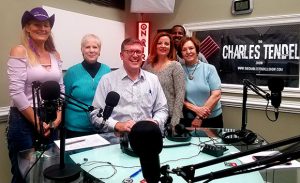 Episode 108
Find out the latest "positive" news and information about our beautiful and happening town of New Bern and Beyond. Beyond, meaning our travels throughout Eastern North Carolina!
During this show, New Bern Now's Podsquad: Susan Moffat-Thomas, Kathy Morrison (New Bern Historical Society), Colleen Roberts (City of New Bern), Charles Tendell (Charles Tendell Show), George Oliver (Oliver & Cheek, PLLC), Tracey Stones (NCMZ.live) and I talked about the latest happening in our community on location in the Charles Tendell Studio located inside the O'Marks Bldg., 233 Middle Street Suite 107 in Downtown New Bern!
Special thanks to this Podcast episode's Co-Sponsors:
– New Bern Historical Society, 511 Broad St., 638-8558
– New Bern Web Design, 315 Metcalf St., New Bern, 349-0270
Listen here:

Show notes:
00:40 – Catching up with the Podsquad
1:03 – Breaking news! Our Podcast is going LIVE
1:52 – New Bern Historical Society
2:38 – Announcing Tracey Stones is New Bern Now's Marketing and Executive Sales Director
5:09 – Strung Together Band's Christmas Album
8:18 – Welcome to New Bern Jo Anna and Patrick Kloster
12:00 – City of New Bern "Dropped the Bear"
16:01 – New Bern Parks and Recreation
16:46 – Cypress Hall Kitchen + Bar and Thai Angel Restaurants are open
20:44 – New Bern Farmers Market
21:36 – Staytrippin'
21:46 – Coastal Women's Forum Dinner with Guest Speaker Tonya L. Lynch
22:02 – Poetry Open Mic Night with featured Jo Ann Hoffman
22:21 – Small Business Roundtable: Copywriting Made Easy with Jane Maulucci
23:17 – Encore: The Story of Ghent with John Leys
24:39 – ArtWalk – New Bern
25:31 – Greater Good Gallery
26:06 – Potters Throwdown for Empty Bowls 2019 with Music by Strung Together
28:05 – Wreaths Across America Cleanup
28:37 – Charlie Brown
29:15 – MERCI Clinic
30:31 – New Bern Heart Ball
30:55 – Caffeinated Soul Boogie Live and Hank Barbee Live
31:12 – Introduction to Home Brewing
33:14 – Ed Bearrs and The Raising of the USS Cairo
34:13 – Tom Kimmel Live
34:40 – The Diary of Anne Frank
35:16 – 12th Annual Local Authors Luncheon
36:17 – Freedom Ball Fundraising Gala
37:21 – Happenings at Tryon Palace:
– Behind the Scenes: Costume Shop
– Behind the Scenes: Museum Technology
– African American Lecture Series: "The Warmth of Other Suns-Revisted
– Discovering Tryon Palace: Outlander in the Governor's Palace
– Discovering Tryon Palace: Outlander Home and Hearth
40:03 – For Live Entertainment and Music, check out Tracey Stones's NC Music Zone at NCMZ.live
40:40 – Joanne Friedman's New Bern Music Calendar Facebook page
41:32 – Small Business Center's Entrepreneur Series
42:45 – Attic-Basement-Closet (ABC) Indoor Sale
43:50 – Ingrid Watts Awarded EAA Chapter 1171 Memorial Scholarship
45:21 – U.S. Cellular Future of Good Nominations
47:00 – New Bern Web Design
48:45 – Daytrippin'
– Carolina Outdoor Expo
– Jolly Skull Beer and Wine Festival
50:19 – Ledger Magazine
51:24 – New Bern Live
53:04 – Welcome Contributing Author Blaine Statt to New Bern Now's Team
Listen to our Podcast on NewBernNow.com, subscribe to our iTunes or Libsyn Channels, or tune into New Bern's News Talk Radio Station WNOS 103.9FM and 1450 every Wednesday at 8 a.m. and 5 p.m.
We also encourage you to listen to our New Bern Live partners as their shows also air on WNOS – The Charles Tendell Show, City Talk with Sabrina and Lee, and Men On Radio Offering Non-sensical Solutions (M.O.R.O.N.S).
We'll be back on January 17, 2018…this time we're going LIVE! So tune into New Bern Live's Facebook page between 1 – 2 p.m. The show will be published the same day on NewBernNow.com and on our Libsyn and iTunes Channels.
Let us know if you'd like to join us as a guest on the Podcast or have any questions, comments or suggestions by calling 252-259-6853 or sending us an email at info@newbernnow.com.
Wendy Card